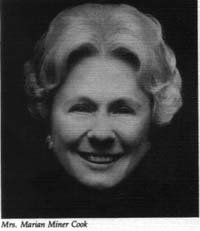 THE DIRECTOR'S CORNER
JOHN ROTH
"Presidential Politics & Party Realignment in the '80s," a symposium February 25-27, brings outstanding Democrats and Republicans to Claremont McKenna College to discuss prospects for the 1988 presidential campaign. It also presents an ideal opportunity to appreciate two of CMC's most generous benefactors, Mrs. Marian Miner Cook and her husband, the late John Brown Cook. The symposium is co-sponosored by the John Brown Cook Association for Freedom and the Marian Miner Cook Athenaeum, demonstrating only one of the many ways in which the Cook family has benefited our college.

Mr. Cook, the former president and chairman of the Reliable Electric Company, graduated from Dartmouth College in 1929 with distinction in physics. He later served as a Scripps College trustee. He cared profoundly for the American republic, its Constitution, the free enterprise system, and sound education. The John Brown Cook Association advances Mr. Cook's ideals by sponsoring a wide variety of speakers at Dartmouth and The Claremont Colleges. For example, under the leadership of Professor Alfred Balitzer, the association recently brought to Claremont Edward Rollins, director of the Reagan/Bush campaign in 1984; Mickey Kantor, distinguished lawyer and chairman of the Mondale/Ferraro campaign in California; former Secretary of the Interior James G. Watt; Joe Cerrell, nationally recognized Democratic party campaign manager and consultant; and three leading members of the Afghan freedom fighters movement, including Pier Gailani, the leader of 13 million Sunni Muslims in Afghanistan.

Fittingly, events sponsored by the John Brown Cook Association often occur in the Marian Miner Cook Athenaeum. Mrs. Cook has said that the association, founded by her husband, was the source of her interest in CMC. To our delight, that interest grew. She became a valued trustee in 1979, and then provided the leadership that made the Athenaeum a reality.

Her work reaches beyond Claremont, however. A founder of the Los Angeles County Museum of Art and vice chairman of the board of governors of the Performing Arts Council for the Los Angeles Music Center, she has also served as a director of the Institute of Nautical Archeology and the California State University and Colleges Foundation. But those of us who are associated with CMC believe that her finest contribution will always be the Marian Miner Cook Athenaeum.

Shortly before the Athenaeum opened in September 1983, Mrs. Cook remarked that she and Mr. Cook "had a challenging and exciting life." She added her wish that the Athenaeum would provide Claremont students with "similar intellectual challenges and excitement." Like so many other Athenaeum events that Mrs. Cook's generosity makes possible, the symposium that awaits us should make her wish come true.