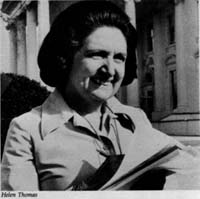 Media and the Political Event
HELEN THOMAS
JOE SCOTT
EDWARD FISKE
LEONARD APCAR '75
MICHAEL McCURRY
BILL BOYARSKY
THOMAS GOLDSTEIN
Wednesday and Thursday, September 16+17, 1986
The role of the press in shaping and defining the political process in the United States is the focus of an Athenaeum conference on September 16 and 17 journalists and political experts from across the country will participate in a round of discussions, considering the manner in which the media influence the nature of election campaigns and the techniques used by campaign managers to control media coverage of their candidates.

Helen Thomas, White House bureau chief for United Press International (UPI), opens the two-day conference. Her address, "Media and the Political Event," follows a reception and dinner beginning at 5:30 p.m. in the Security Pacific Dining Room.

The conference resumes on Wednesday, September 17, at 11:15 a.m., with remarks from Joe Scott, a political columnist who has worked for a number of California newspapers. Mr. Scott's speech is followed by an address by Edward B. Fiske, education editor for The New York Times, who considers the way in which press coverage alters the event it describes.

Later, that day Leonard Apcar '75, a writer for The Wall Street Journal, and Michael McCurry, communications director for Gov. Bruce Babbitt of Arizona, make presentations and answer questions at 4:00 p.m. Following a reception and dinner beginning at 5:30 p.m., Bill Boyarsky, city-county editor for the Los Angeles Times, and Thomas Goldstein, professor of jounalism at U.C. Berkeley and author of The News at Any Cost: How Journalists Compromise Their Ethics to Shape the News (1985), close the conference with a review of the major questions related to press coverage of political events.