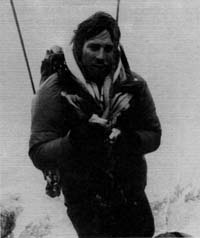 The Fitz Roy Region of Patagonia
MICHAEL GRABER '74
Wednesday, October 15, 1986
Life After CMC
MICHAEL GRABER '74
Thursday, October 16, 1986 12:00 p.m.
A football-playing philosophy major, Michael Graber, took his CMC degree in 1974 and joined the ranks of climbing and skiing adventurers who make their living in the mountains. He made numerous "first ascents" in remote regions of Alaska, one of them so impressive that it is included in the book Fifty Classic Climbs in North America (1979). Michael's jaunts have also taken him to the Amazon jungle, Antarctica, and in 1983 to war-torn Afghanistan. He is a distinguished photographer.

On Wednesday evening, October 15, after a reception and dinner at 5:30 p.m., Michael presents a slide show focusing on his recent expedition to the Fitz Roy region in Patagonia. An account of this trip will appear in Mountain Worlds, slated for publication next spring by the National Geographic Society. Put some mid-term adventure into your life by meeting Michael Graber.