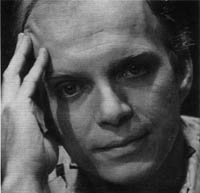 An Evening of Mime
THOMAS LEABHART
Thursday, November 6, 1986
0n Thursday, November 6, the Athenaeum will play host to an evening of mime, featuring Thomas Leabhart, professor and resident artist at Pomona College. Interested generally in the arts for some time, Leabhart's attention moved from one art form to another, until, as a graduate student, he saw a mime film. "In that film I saw what movement was supposed to be," says the artist. At that moment Tom Leabhart knew that mime was what he would do.

Under a Fulbright scholarship, Leabhart completed four years of training at Etienne Decroux's Ecole de Mime between 1968 and 1972. He has since performed both solo and ensemble mime throughout the United States, Canada, and western Europe. In addition, Leabhart has taught and lectured widely.

The recipient of Ohio Arts Council and National Endowment for the Arts Choreography fellowships, Tom Leabhart has served on the Dance Advisory Panel, the Theatre Advisory Panel, and as a site visitor for the National Endowment for the Arts. He is editor of Mime Journal and Mime News, and is currently working on a book entitled Modern and Post-Modern Mime.