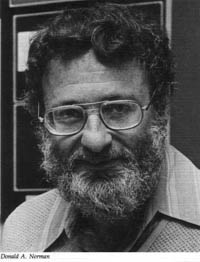 Artificial Intelligence: Abstract Concepts and Real Applications
Mind and Action
DONALD NORMAN
Monday, November 10, 1986
Voice Communications with Machines: Digital Technology for Speech Synthesis and Recognition
JAMES FLANAGAN
Tuesday, November 11, 1986 11:00 a.m. Galileo Hall
Knowledge-Based Systems: Applications, Potentials, and Limitations
ALICE AGOGINO
Tuesday, November 11, 1986 4:00 p.m. Bauer Lecture Hall
As co-sponsor with the Henry Luce Foundation, the Athenaeum announces a symposium on "Artificial Intelligence: Abstract Concepts and Real Applications," which will be held at Claremont McKenna College and Harvey Mudd College on Monday and Tuesday, November 10-11. Organized by Professors Dean Gillette, William Purves, and John Roth, the conference features three exceptional scholars who will define the "cutting edges" of the field.

After an Athenaeum reception and dinner beginning at 5:30 p.m., Professor Donald A. Norman, professor of psychology and director of the Institute for Cognitive Science at the University of California, San Diego, will open the symposium with his 7:00 p.m. address on "Mind and Action."

On Tuesday, November 11, the scene shifts to Galileo Hall, Harvey Mudd College, where James L. Flanagan, director of the Information Principles Research Laboratory at AT&T Bell Laboratories, will speak at 11:00 a.m. on "Voice Communications with Machines: Digital Technology for Speech Synthesis and Recognition." At 4:00 p.m. in Bauer Lecture Hall, Claremont McKenna College, the symposium concludes with a discussion of "Knowledge-Based Systems: Applications, Potentials, and Limitations" by Professor Alice M. Agogino, professor of mechanical engineering, University of California, Berkeley.

A final opportunity to meet and dine with the participants follows on Tuesday at 5:30 p.m. during an Athenaeum reception and dinner. Use The Fortnightly coupons to make reservations for the dinner occasions on the evenings of November 10 and 11.