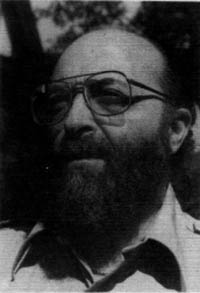 Authority and Rebellion: The Individual and Modern Literature
CHAIM POTOK
Monday, February 2, 1987
The Writer/Artist Against the World
CHAIM POTOK
Tuesday, February 3, 1987
0n February 2 and 3 the Athenaeum welcomes best-selling author Rabbi Chaim Potok, who will speak on "Authority and Rebellion: The Individual and Modern Literature" and "The Writer/Artist Against the World." The son of two Polish immigrants, Chaim Potok was born into a Jewish family and schooled in all-male parochial school or yeshiva. In an interview with Newsday, Potok recalled his mother's reaction when he told her that he thought he would spend his life writing stories: "She looked and said, 'You want to write stories? That's very nice. You be a brain surgeon, and on the side you write stores'." Instead of going into medicine, Potok became a rabbi and a writer. He has used his deeply Judaic background to make him one of the foremost commentators on the Jewish-American experience.

Potok received his rabbinical ordination and a master's degree in Hebrew literature from the Jewish Theological Seminary, and completed work for his Ph.D. in philosophy at the University of Pennsylvania. Dr. Potok has taught at the University of Judaism in Los Angeles, as well as at the Jewish Theological Seminary in New York. Before devoting full time to writing and lecturing, he served as editor of the Jewish Publication Society in Philadelphia.

The author of six novels and one history, Potok says his work explores the conflicts of "individuals who are very committed to the core of their particular world, Judaism, and at the same time committed to the ideas that come to them from the core of the secular umbrella world in which they live." The piece for which he is known best, The Chosen (1967), was made into a motion picture several years ago. Other books include In the Beginning (1975) and The Book of Lights (1981), the latter recounting the experiences of a young chaplain in Korea, where Potok served from 1955 to 1957.

Chaim Potok's world speaks to Jews and non-Jews alike. Dr. Potok is widely read in both Jewish and secular texts, and is respected for his fiction and his scholarship. In addition to these accomplishments, he is a painter, and has been exhibiting since 1979.

The wide-ranging knowledge and interests of Chaim Potok, coupled with his dynamic presentational style and his skill as a storyteller, should make his visit among the most outstanding programs of the term.