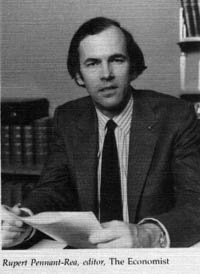 WINTER AND SPRING PROGRAMS
International relations, literature, music, religion, and economics-these are some of the major fields included in the Athenaeum's winter and spring calander. Please save the listing for future reference, and note on your calendar now those events you wish to attend. Remember that luncheon or dinner reservations in conjunction with these programs should be made with the Athenaeum secretary at least two days in advance. Meal card numbers from students are required. Other friends of the College are welcome, too; their fee is normally $5.00 for lunch and $8.00 for dinner, payable in advance by check to the Marian Miner Cook Athenaeum. Typically the evening programs begin at 7:00 p.m., following a reception and dinner starting at 5:30 p.m.

Wednesday, January 21, 1987

Entrepreneurship, a three-part series, gets under way with a presentation by Julie D. Dillion, president and owner of Dillon Development, Inc., San Diego. The other programs in this series feature Al Osborne, director of UCLA's entrepreneurial studies program, who speaks on Monday, January 26, and R.B. "Buzz" Woolley, Jr. '59, president of Girard Capital, Inc., La Jolla, who will be at the Athenaeum on Thursday, February 12.

Tuesday, January 27, 1987

Our second annual Mozart's Birthday Party showcases chamber music by Brahms and Schubert as well as Mozart. See "Feast and Festival" for more details.

Monday and Tuesday, February 2-3, 1987

Novelist Chaim Potok, distinguished author of The Chosen (1967), The Book of Lights (1981), and other important works, discusses his writing.

Tuesday and Wednesday, February 10-11, 1987

Sonia Landau draws on her experience with the Corporation for Public Broadcasting and as chair of Women for Reagan-Bush '84 to address issues of current concern.

Monday, February 16, 1987

Sponsored by the Keck Center for International Strategic Studies, Congressman Lee Hamilton delivers the 1987 Keck Lecture on International Understanding.

Tuesday-Thursday, February 24-26, 1987

Americans Abroad, a symposium on the problems and prospects facing Americans overseas, includes Rupert Pennant-Rea, editor of The Economist, and Colonel Harry G. Summers, Jr., senior military analyst for U.S. News and World Report.

Wednesday, March 4, 1987

Co-sponsored by the Office of the Chaplains, theologian Harold S. Kushner discusses his best-selling When Bad Things Happen to Good People (1981).

Tuesday, March 24, 1987

Yvonne Braithwaite Burke, attorney and former member of Congress, appraises the current American scene.

Wednesday, March 25, 1987

Historian and freelance writer, Margaret A. Coel shares her insights about the American West.

Thursday, March 26, 1987

An evening with Dith Pran, whose story is told in the award winning film, The Killing Fields (1984).

Monday, March 30, 1987

Watch the NCAA Basketball Finals and the Academy Awards on big-screen television at the Athenaeum.

Tuesday and Wednesday, March 31-April 1, 1987

A symposium on Jesus brings us Brian Hebblethwaite, director of studies in philosophy, theology, and religious studies at Queens' College, Cambridge, England, and a distinguished group of Claremont scholars.

Thursday, April 2, 1987

Caribbean Afro-American poet Derek Walcott, winner of the 1986 Los Angeles Times Book Prize for poetry, reads and interprets his work.

Friday-Sunday, April 3-5, 1987

The Athenaeum's Americana Evenings feature traditional food and music.

Monday-Wednesday, April 27-29, 1987

Richard L. Rubenstein, author of influential studies such as The Cunning of History (1975) and The Age of Triage (1983), focuses on his research-in-progress.

Monday and Tuesday, May 4-5, 1987

Japanese philosopher Kenji Yoshida appraises the increasing importance of Japanese modernization and its impact on Japanese-American relations.