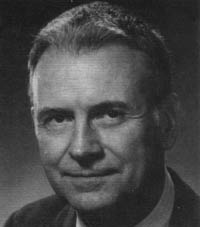 Iran Contra Affair
LEE HAMILTON
Monday, February 16, 1987 12:30 p.m.
Keck Lecture on International Understanding
LEE HAMILTON
Monday, February 16, 1987
Sponsored by the Keck Center for International Strategic Studies, Congressman Lee Hamilton, who was recently chosen to chair the select committee investigating the arms sales to Iran, appears at two Athenaeum events on Monday, February 16. There will be a luncheon discussion at noon, and he will deliver the second annual Keck Lecture on International Understanding at 7:00 p.m. His evening remarks will be preceded by an Athenaeum reception at 5:30 p.m. and dinner at 6:00.

Congressman Hamilton took his undergraduate degree at DePauw University and his law degree at Indiana University. First elected to Congress in 1964, he represents Indiana's 9th District and has become the ranking Democrat on the Foreign Affairs Committee. He also chairs the foreign affairs subcommittee on Europe and the Middle East and is vice chairman of the Joint Economic Committee.

Make your reservations early. Congressman Hamilton's Athenaeum appearance promises to be one of the highlights of the spring semester.