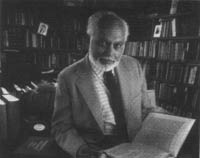 Church, State, and Liberty
LEONARD LEVY
THURSDAY,SEPTEMBER 17, 1987
The American Founding As the Best Regime: The Bonding of Civil and Religious Liberty
HARRY JAFFA
THURSDAY, SEPTEMBER, 17, 1987 8:15 p.m. Bauer Lecture Hall
The 200th anniversary of the signing of the United States Constitution occurs Thursday, September 17. The Athenaeum commemorates that historic event with the first in a series of celebrations to honor the Constitution's bicentennial.

At 7:00 p.m. on the anniversary date, Leonard Levy, professor of history at The Claremont Graduate School, Pulitzer prize-winning author, authority on the First Amendment, and recently a star on Bill Moyers' television series about the Constitution-speaks on "Church, State, and Liberty." Preceding his discussion is a special Colonial Birthday Dinner. Authentic 18th-century music will be provided by Mary Beth Haag and Paul Bishop. Use The Fortnightly's reservation coupon to sign up for this event, which begins with a 5:30 p.m. reception, followed by dinner at 6:00 p.m.

If you wish to hear more about the Constitution on this anniversary evening, CMC's Professor Harry V. Jaffa is speaking at 8:15 p.m. in Bauer Lecture Hall. His lecture, "The American Founding As the Best Regime: The Bonding of Civil and Religious Liberty," is co-sponsored by The Henry Salvatori Center for the Study of Individual Freedom in the Modern World and by The Claremont Institute.

Watch The Fortnightly for further announcements about events in the Athenaeum's 1987-88 observance of the Constitution's birthday.