Athenaeum Location
Print Newsletter
September 21, 1987
Vol. 03, No. 02
THE FELL0WS' TURN
STEPHANIE LUM
As the fall semester gains momentum, remember that the Marian Miner Cook Athenaeum continues to offer numerous opportunities for you to step away from daily pressures. Here you can encounter ideas and experiences that are often new, controversial, or simply refreshing. This month the Athenaeum's "Power and Politics in Athletics" symposium is sure to give you a different outlook on the concerns of players and personalities in the highly publicized world of professional and collegiate athletics.

Other events not to miss are continuations of the United States Constitution lecture series, currently spotlighting William Bradford, and the series about California history, featuring Kevin Starr. Both series continue in November. Watch The Fortnightly to catch every episode.

Being a student fellow, I look forward to attending as many Athenaeum-sponsored events as possible, and I hope that you will do the same. Remember that an additional goal for the Athenaeum is to accommodate as many student-sponsored events as possible, but please keep in mind that we often have more scheduling flexibility for lunches and teas than for dinners.

Also, there are many work opportunities the Athenaeum offers to enterprising students; our master chef, Terri, is presently looking for good workers in the kitchen to keep operations running smoothly.

Most of all, I stress that while our programs for the year will encompass a broad range of interests in an effort to appeal to you, if you feel that we are overlooking a topic or theme, please contact me or James Van Beek at the Athenaeum, x8244. We are always open to your comments and suggestions.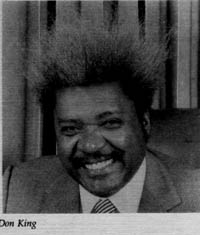 Power and Politics in Athletics
DON KING
ROY FIRESTONE
KARCH KIRALY
CONNER HENRY
RICKY DAVIS
KATE SCHMIDT
PAT HADEN
MEL LEVINE
GLEN KOZLOWSKI
TUESDAY, SEPTEMBER 29-THURSDAY, OCTOBER 1, 1987
Amateur athletics play an important role in the social and recreational lives of many Americans. Professional athletics are big business-seven-figure salaries attest to that-but big business is no longer reserved for professionals alone. During the past decade amateur sports, especially at the collegiate level, have become politicized also. "Power and Politics in Athletics," the Athenaeum's first symposium for the 1987-88 college year, features a variety of people from both amateur and professional athletics. The symposium takes place from September 29 to October 1, and examines and questions whether power and politics have, in fact, replaced the fair play and recreational atmosphere of athletics as a whole.

On Tuesday, September 29, boxing entrepreneur Don King and sports commentator Roy Firestone open the symposium with an interview concerning big business and athletics. King brought the "big gate" to the boxing ring. Three of King's best known clients are Mohammed Ali, Mike Tyson, and Leon Spinks. While serving time for a crime subsequently pardoned by the governor of Ohio, King read intensely, from Plato to Nietzsche. Firestone, who hosts the five-day-a-week talkshow, "Sportslook," on ESPN interviews King. Firestone. also covers the NFL for the sports network, and is a master of impressions (from Howard Cosell to Woody Allen and Johnny Mathis). His experience as an interviewer and entertainer should contribute to a lively discussion with King.

Wednesday evening, September 30, United States Olympic gold medalist Karch Kiraly joins Celtic player Conner Henry, Tacoma Stars midfielder Ricky Davis, and Olympic track and field medalist Kate Schmidt for a panel interview to be moderated by former Los Angeles Rams quarterback Pat Haden. Kiraly, who just recently competed in the Pan American games as a member of the United States' Men's Volleyball team, is a bio-chemistry graduate of UCLA. Henry completed his rookie year with the Celtics this past season, and is the son of Professor Granville Henry. Davis served as a captain of the United States' international soccer team and played for the NASL until that league folded. Schmidt is a two-time Olympic medalist and former world record holder in the javalin. Haden, who played for the Rams for six seasons was the Rose Bowl Most Valuable Player of the Game in 1975. He graduated magna cum laude and Phi Beta Kappa from the University of Southern California and was a Rhodes scholar. Presently, he is an attorney and works for CBS, covering college football games.

Closing night of the symposium features Mel Levine, draft agent for the NFL and Chicago Bear receiver Glen Kozlowski. Levine has 30 top-round college draft choices as his clients. He is concerned about a major problem facing college athletics today: the influx of agents paying fees to athletes who remain ineligible. Levine focuses his discussion on ways that college athletics can be reformed.

Use the reservation coupon in this issue to sign up for any or all of these symposium events.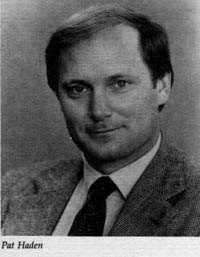 Symposium Calendar:
POWER AND POLITICS IN ATHLETICS
Tuesday, September 29, 1987:
Sports commentator Roy Firestone of ESPN interviews boxing entrepreneur Don King; 5:30 p.m. reception and dinner, 7:00 p.m. program.

Wednesday, September 30, 1987:
Pat Haden, former Los Angeles Rams quarterback hosts a panel interview with volleyball player Karch Kiraly, Celtics member Conner Henry, midfielder for the Tacoma Stars, Ricky Davis, and javalin thrower Kate Schimdt; 5:30 p.m. reception and dinner, 7:00 p.m. program.

Thursday, October 1, 1987:
Sports agent Mel Levine and Chicago Bear receiver Glen Kozlowski give a presentation concerning big business in athletics; 5:30 p.m. reception and dinner, 7:00 p.m. program.
SUNDAY BRUNCH
SUNDAY, OCTOBER 4, 1987 11:30 a.m.
The Athenaeum presents the year's first Sunday brunch on the morning of October 4, from 11:30 a.m. to 1:00 p.m. What better way to start the day than with a splendid morning feast prepared by Terri and her talented crew? Make reservations early for this immensely popular Athenaeum event. Due to the popularity of this event however, the brunch is open only to CMC-associated individuals (and a guest).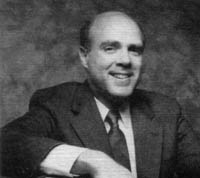 Public Education and the Religious Right
WILLIAM BRADFORD, Jr.
MONDAY, OCTOBER 5, 1987
0n Monday, October 5, our series celebrating the 200th birthday of the Constitution continues with William Bradford, a senior partner in the Washington, D.C., law firm of Hogan and Hartson, where he heads the pro bono department.

Last fall Bradford represented the Alabama State Board of Education, which was challenged in court by religious fundamentalists. The case involved a charge that textbooks in Alabama's schoolrooms illegally espouse a religion called "secular humanism." The judge ruled in favor of the plaintiffs, but in lateAugust 1987, the U.S. District Court of Appeals unanimously reversed the decision.

A graduate of Swarthmore College and Yale Law School, Bradford is an interesting and articulate speaker who will address a subject that is receiving nationwide attention.
Small Renaissance, Southern California Style: The Los Angeles of Jake Zeitlin
KEVIN STARR
WEDNESDAY, OCTOBER 14, 1987
Noted California historian Kevin Starr continues his three-part series of lectures at 7:00 p.m., following a reception and dinner beginning at 5:30 p.m. The remarkable Jake Zeitlin, friend of numerous authors (his pals included Aldous Huxley, D.H. Lawrence, William Faulkner, Tennessee Williams, and Carl Sandberg) and a noted boolkseller, is the central figure in the renaissance that Dr. Starr discusses on Wednesday, October 14. Through sheer force of personal magnetism and good-humored generosity, Zeitlin became the center of a circle that included artists, politicians, academicians, attorneys, and journalists. The "Zeitlin circle" transformed southern California into a nexus of books, art, and scholarship. Zeitlin died at the age of 84 on Monday, August 31, 1987. This is an appropriate time to discover or remember him.
FUTURE ATHENAEUM EVENTS
Tuesday, October 27, 1987, and Thursday, October 29, 1987:
John Irving, novelist

Wednesday, October 28, 1987:
Gov. George Deukmejian (7:30 p.m. speech at McKenna Auditorium)

Tuesday, December 1, 1987:
Special madrigal dinner for CMC students, faculty, and staff. Feast and singing are included; evening's entertainment ends by 8:00 p.m. Tickets are limited; seating on a first-come basis. Use reservation coupon for tickets. The cost is $5.00 per CMC Person, and $5.00 for one guest.
OTHER ATHENAEUM EVENTS
Afternoon Tea. Tea and sweets are currently being served Monday through Friday in the Athenaeum library from 3:00-4:30 p.m.

Wednesday Lunch. Every Wednesday at noon, lunch is served in one of the small Athenaeum dining halls for students and faculty who wish to share a meal and thoughts. The lunch is an open forum, and reservations are not required.
May we remind you: no smoking inside the Athenaeum. Thank you.