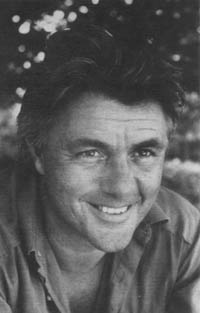 A Prayer for Owen Meany
JOHN IRVING
TUESDAY, OCTOBER 27, 1987 McKenna Auditorium
To Be A Writer
JOHN IRVING
WEDNESDAY, OCTOBER 28, 1987 12:30 p.m.
The Athenaeum hosts John Irving, contemporary American novelist, short story writer, and essayist, Tuesday and Wednesday, October 27 and 28. Irving's works have received widespread critical and popular acclaim. He is the author of The Water-Method Man (1972), The 158-Pound Marriage (1974), The World According to Garp (1978), The Hotel New Hampshire (1981), and The Cider House Rules (1985). He is currently working on another book, A Prayer for 0wen Meany.

In 1979 Irving received the American Book Award for The World According to Garp. He has also been honored with a Pushcart Prize and an O. Henry Award for his short story fiction. Noted for his dramatic literary style, which combines humor with violence and tragedy, Irving strives to capture the essence and drama of human life by exaggerating it, sometimes emphasizing its irony through bizarre and morbid events.

On Tuesday, October 27, the Athenaeum hosts a reception and dinner for Irving starting at 5:30 p.m.; Irving's address is in McKenna Auditorium. Sign up for this event by using the coupon in The Fortnightly. On Wednesday, October 28, Irving addresses students at a luncheon sponsored by the CMC English Resources Center. At 4:00 p.m. that afternoon, a reception and discussion with Irving takes place for advanced literature majors and faculty members. Save these dates on your calendar. Return the reservation form as soon as possible. John Irving's visit to CMC is an excellent opportunity to meet a very talented and insightful man.