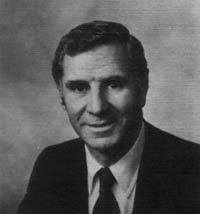 California Politics
GEORGE DEUKMEJIAN
WEDNESDAY. OCTOBER, 28, 1987 7:30 p.m. McKenna Auditorium
The Rose Institute and John Brown Cook Association are hosting California's Gov. George Deukmejian on Wednesday, October 28. Students are welcome to attend Governor Deukmejian's address at 7:30 p.m. in McKenna Auditorium. Deukmejian, who was re-elected in 1986, has served as California's governor since 1983.

During his tenure Deukmejian has eliminated California's $1.5 billion budget deficit without increasing general taxation. He has also led initiatives that resulted in teaching the basics in education and in a crackdown on crime, including the appointment of "common sense" judges to California's courts.

Deukmejian served as a legislator and attorney general prior to becoming governor. He graduated from Siena College and St. John's University School of Law.