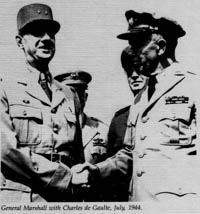 40th ANNIVERSARY OF THE MARSHALL PLAN
Leadership of General Marshall
FORREST POGUE
WEDNESDAY, NOVEMBER 4, 1987 4:00 p.m. Child's Lounge
The Origins and Achievements of the Marshall Plan
MICHAEL HOGAN
WEDNESDAY, NOVEMBER 4, 1987
Germany and the Marshall Plan
JOHN GIMBEL
WEDNESDAY, NOVEMBER 4, 1987
To offset the economic and physical woes of Europe following World War II, the Marshall Plan was enacted 40 years ago. The plan resulted in America's giving Europe substantial aid to help the continent alleviate postwar problems of starvation and assist physical reconstruction.

On Wednesday, November 4, the Keck Center sponsors a one-day symposium honoring the 40th anniversary of the Marshall Plan.

The progran begins at 4:00 p.m. with a seminar featuring Dr. Forrest Pogue, the definitive biographer of Gen. George C. Marshall, who devised the Marshall Plan. The seminar, which focuses on the leadership of General Marshall, takes place in the Athenaeum's Child's Lounge.

Following the seminar, the progmm continues with a reception and a dinner at the Athenaeum beginning at 5:30 p.m. After dinner Dr. Michael Hogan and Dr. John Gimbel speak about the Marshall Plan. Hogan's remarks are entitled "The Origins and Achievements of the Marshall Plan." Hogan is professor of history at Ohio State University; he recently published The Marshall Plan, America, Britain, and the Reconstruction of Western Europe, 1947-1952 (1987). Gimbel, professor of history emeritus at California State University, Humboldt, is the author of numerous works on the United States' relations with Germany. He speaks on "Germany and the Marshall Plan."