Athenaeum Location
Print Newsletter
January 18, 1988
Vol. 03, No. 05
Martin Luther King, Jr. Birthday Remembrance
JOHN MAGUIRE
CORNISH ROGERS
MONDAY, JANUARY 25, 1988
The Athenaeum begins the second semester with a dinner commemorating Dr. Martin Luther King, Jr. Dr. King is one of four persons who has a U.S. national holiday named in his memory (the others being Christopher Columbus, George Washington, and Abraham Lincoln), and so it is appropriate that we host a dinner honoring Dr. King's contribution to America.

The evening will feature two close friends of King's, John David Maguire, president of Claremont University Center and Graduate School, and Cornish Rogers, professor of pastoral theology and director of Urban Ministries Center, School of Theology at Claremont. Both men knew King as classmates; and President Maguire was a member of the original Freedom Ride in 1961. Maguire was also the first chairman of the Martin Luther King, Jr., Center for Social Change in Atlanta, Georgia.

The 6:00 p.m. dinner begins with a reception at 5:30 p.m. At 7:00 p.m. a half-hour documentary, "I Have a Dream," will be shown; this will be followed by a discussion between Dr. Maguire and Dr. Rogers, and will also include time to ask questions of them. Please join us and learn more about a great American leader who was murdered during the year that shaped a generation-1968.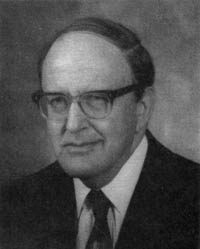 A New Birth of Freedom: The Civil War and the Bicentennial of the Constitution
HARRY JAFFA
WEDNESDAY, JANUARY 27, 1988
Continuing, the Athenaeum's Constitution series this semester is Professor Harry Jaffa who will speak on "A New Birth of Freedom: The Civil War and the Bicentennial of the Constitution." Jaffa has been the Henry Salvatori Research Professor of Political Philosophy since 1971 and has received fellowships from the Ford, Rockefeller, Guggenheim, and Earhart Foundations. His presentation follows a 5:30 reception and dinner and begins at 7:00 p.m. on Wednesday, January 27.
Clam Bake
THURSDAY, JANUARY 28, 1988
Come join us on Thursday, January 28, as we celebrate the new year with a good old-fashioned clam bake. The evening's repast will include our Chef Robert's fabulous steamed clams, crab legs, and other seafoods, a chowder, and complementary side dishes. If you are a seafood connoisseur, this evening promises to be one of gastronomical delight. Sign up soon and arrive promptly for this feast that begins at 6:00 p.m.
SUNDAY BRUNCH
SUNDAY, JANUARY 31, 1988 11:00 a.m.
The Athenaeum's traditional Sunday brunch continues this semester with the first brunch being served on Sunday, January 31, from 11:00 a.m. to 12:30 p.m. The highly popular brunches each sold out last semester, so early reservations are advised. The brunch is open to CMC-associated individuals (and one guest) only. Reservations are required for all persons attending the brunch, including guests.
WORDSWORTH LUNCH
TUESDAY, FEBRUARY 2, 1988 12:00 p.m.
Does your mouth begin to water at the thought of a rendezvous in the recherche Athenaeum rapping about rhetoric over a serving of ratatouille? Join the WordsWorth Society and bring a word to lunch! Share its origin, its meaning, or some unusual story about it, and learn other interesting etymological facts in return. The first lunch of the semester is on February 2. Students and faculty are welcome.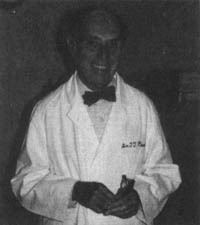 The Nature of Cancer
THEODORE PUCK
TUESDAY, FEBRUARY 2, 1988
Dr. Theodore Puck a pioneer in the fields of genetics and biochemistry, speaks on "The Nature of Cancer" at the Athenaeum on Tuesday, February 2, at 7:00 p.m.

Puck's research has been instrumental in reassessing the effects of radiation and experimental toxins on human cells. The effects of toxicity have been commonly measured by tests using bacteria, but, generally, bacteria are less sensitive than human cells to toxicity. Puck's studies have made it possible for human cells, instead of bacteria, to be used in such tests for the effects of toxicity. In addition, his system can now be used to measure the effects of protective influences of possible anti-cancer agents.

The Joint Science Department sponsors the visit of this history-making man. Puck, who received his B.S. and Ph.D. degrees in chemistry from the University of Chicago, is currently the head of the Eleanor Roosevelt Institute for Cancer Research in Denver. Preceding his lecture, the Athenaeum hosts a 5:30 p.m. reception and dinner. Students interested in attending are encouraged to use the reservation coupons in this issue to sign up for the event.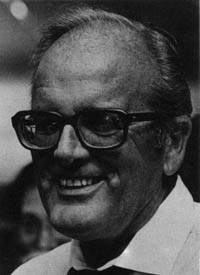 Political Cartoons: A Visual Commentary
PAUL CONRAD
THURSDAY, FEBRUARY 4, 1988
Paul Conrad is a three-time Pulitzer Prize-winning editorial cartoonist for the Los Angeles Times Syndicate, and one of only five people to have received this prestigious award three times. Conrad has been the chief editorial cartoonist for the Los Angeles Times since 1964, and his political commentary appears in hundreds of papers nationwide.

In his introduction to Pro and Conrad (1979), one of the artist's four books, Art Buchwald said, "Conrad's name strikes fear in the evil hearts of men all over the world. Wherever there is corruption, greed or hypocrisy, everyone says, 'This is a job for Conrad'."

Don't miss Paul Conrad's presentation at the Athenaeum on Thursday, February 4, a continuation of our Constitution series focusing on current political issues. His presentation, to be preceded by a 5:30 p.m. reception and dinner, includes a slide show of his most controversial cartoons in conjunction with a running commentary that is humorous and informative.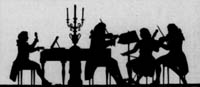 Evening in Vienna
MICHAEL DEANE LAMKIN, conductor, Claremont Chamber Orchestra
FRIDAY, FEBRUARY 12, 1988
Celebrate Valentine's Day a little early by joining us for an evening of Viennese music, dance, and fine cuisine.

The Claremont Chamber Orchestra, conducted by Michael Deane Lamkin, will play the music of Johann Strauss, Jr.; there will be an opportunity to learn to waltz and polka; the dinner will feature specialties from Vienna, as well as elegant desserts and coffees.

The cost for CMC-associated persons (CMC students, faculty, and staff) is $5.00 per person and $5.00 for one guest. Join us for a delicious and enjoyable Evening in Vienna beginning at 6:00 p.m.
Who's Going to Win in '88: Will Economics Decide the Election?
GORDON BJORK
ROSS ECKERT
ROD SMITH
DICK SWEENEY
TOM WILLETT
JOHN J. PITNEY JR., moderator
FEBRUARY 18, 1988
Which economic issues will make a difference in this year's primaries and general election? Which candidates are talking economic sense, and which ones aren't? Whose campaigns are sleepers that may sneak up on the candidates? Do voters really care about economic issues? These are some of the issues that, six Phi Betta Kappa faculty members will tackle in this panel discussion that falls after the New Hampshire primary and before the South's "Super Tuesday." The topic is hot, and so are the panel members: Gordon Bjork, Ross Eckert, Rod Smith, Dick Sweeney, and Tom Willett, all from the CMC economics department. The audience is also invited to comment and respond. To hold the economists and the audience in line, Jack Pitney from CMC's government department will moderate as well as give a wrap-up of the issues and the views.

A wine and cheese reception will be served at 5:30 p.m., with dinner starting, at 6:00 p.m. The discussion will be held following dinner.
OTHER ATHENAEUM EVENTS
Aftenoon Tea. Tea and sweets will again be served on weekdays from 3:00 p.m. to 4:30 p.m. Students, faculty, and staff are invited to stop by the Athenaeum.'s library to enjoy some conversation as well as some of Jackie's homemade treats.

Wednesday Lunch. Every Wednesday at noon, lunch is served in one of the Athenaeum's dining rooms, which is set aside especially for students and faculty who wish to share a meal and engage in conversation. Because of the popularity of this event, we ask that people attending the open forum lunch do not save seats for others.
THE FELLOW'S TURN
JAMES VAN BEEK
Elie Wiesel, Patricia Schroeder, Allan Bloom, the Reverend Leon Sullivan, and you-the Athenaeum features all of the above as a part of this semester's diverse program.

Toward the second half of the semester, the Athenaeum plans to sponsor a special dinner and program, "Celebrating the Arts," showcasing the musical and artistic talents of CMC students. Any CMC students who play an instrument or sing, and are interested in performing during this special event, should contact the Athenaeum and/or myself (Appleby 102, 621-1218) or Stephanie Lum (Fawcett 701, x3587) as soon as possible. Since we would also like to replace the Athenaeum's painting with the artworks of our students for the evening, any of you who would like your artful creations displayed should also contact us soon. We are confident that the all-too-often hidden aesthetic talent of Claremont McKenna College students will emerge to make this a truly memorable event.