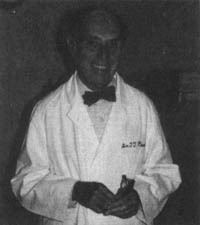 The Nature of Cancer
THEODORE PUCK
TUESDAY, FEBRUARY 2, 1988
Dr. Theodore Puck a pioneer in the fields of genetics and biochemistry, speaks on "The Nature of Cancer" at the Athenaeum on Tuesday, February 2, at 7:00 p.m.

Puck's research has been instrumental in reassessing the effects of radiation and experimental toxins on human cells. The effects of toxicity have been commonly measured by tests using bacteria, but, generally, bacteria are less sensitive than human cells to toxicity. Puck's studies have made it possible for human cells, instead of bacteria, to be used in such tests for the effects of toxicity. In addition, his system can now be used to measure the effects of protective influences of possible anti-cancer agents.

The Joint Science Department sponsors the visit of this history-making man. Puck, who received his B.S. and Ph.D. degrees in chemistry from the University of Chicago, is currently the head of the Eleanor Roosevelt Institute for Cancer Research in Denver. Preceding his lecture, the Athenaeum hosts a 5:30 p.m. reception and dinner. Students interested in attending are encouraged to use the reservation coupons in this issue to sign up for the event.