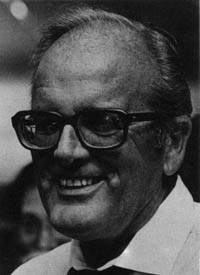 Political Cartoons: A Visual Commentary
PAUL CONRAD
THURSDAY, FEBRUARY 4, 1988
Paul Conrad is a three-time Pulitzer Prize-winning editorial cartoonist for the Los Angeles Times Syndicate, and one of only five people to have received this prestigious award three times. Conrad has been the chief editorial cartoonist for the Los Angeles Times since 1964, and his political commentary appears in hundreds of papers nationwide.

In his introduction to Pro and Conrad (1979), one of the artist's four books, Art Buchwald said, "Conrad's name strikes fear in the evil hearts of men all over the world. Wherever there is corruption, greed or hypocrisy, everyone says, 'This is a job for Conrad'."

Don't miss Paul Conrad's presentation at the Athenaeum on Thursday, February 4, a continuation of our Constitution series focusing on current political issues. His presentation, to be preceded by a 5:30 p.m. reception and dinner, includes a slide show of his most controversial cartoons in conjunction with a running commentary that is humorous and informative.