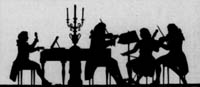 Evening in Vienna
MICHAEL DEANE LAMKIN, conductor, Claremont Chamber Orchestra
FRIDAY, FEBRUARY 12, 1988
Celebrate Valentine's Day a little early by joining us for an evening of Viennese music, dance, and fine cuisine.

The Claremont Chamber Orchestra, conducted by Michael Deane Lamkin, will play the music of Johann Strauss, Jr.; there will be an opportunity to learn to waltz and polka; the dinner will feature specialties from Vienna, as well as elegant desserts and coffees.

The cost for CMC-associated persons (CMC students, faculty, and staff) is $5.00 per person and $5.00 for one guest. Join us for a delicious and enjoyable Evening in Vienna beginning at 6:00 p.m.