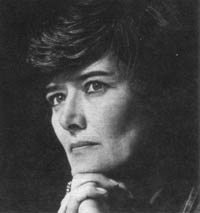 Women in Politics
PATRICIA SCHROEDER
MONDAY, MARCH 7, 1988 McKenna Auditorium
When Sen. Gary Hart dropped out of the presidential race in 1987, fellow Democrat Patricia Schroeder, who had been a co-chairperson of Hart's campaign, was encouraged to campaign for the presidential nomination herself. However, after spending several months "testing the waters," Schroeder decided to postpone her bid, since financial support seemed to be lacking.

On Monday, March 7, Schroeder speaks on women in politics in McKenna Auditorium at 7:00 p.m. Before her presentation the congresswoman dines with students and faculty at a 5:30 p.m. reception and dinner in the Athenaeum.

Schroeder is the most senior woman in Congress, and she represents the First Congressional District of Colorado, comprising most of the city and county of Denver. Schroeder, who was first elected to Congress in 1972 and then re-elected seven times, has served as a Democratic whip in the House since 1978. In 1985 Schroeder introduced historic legislation calling for a mutual nuclear testing moratorium.

Schroeder graduated magna cum laude from the University of Minnesota in 1961. Three years later she graduated from Harvard Law School and passed the Colorado bar. She has been called a "fiscally conservative liberal," and she has called defense contractors the "welfare queen of the '80s." Students interested in meeting with Congresswoman Schroeder should make reservations for dinner by using the coupon in this Fortnightly.