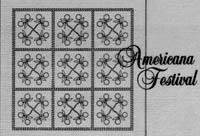 AMERICANA FESTIVAL
MICHAEL DEANE LAMKIN, conductor, Claremont Concert Choir
FRIDAY, APRIL 8, -SUNDAY, APRIL 10,1988
The Athenaeum invites you to partake of a feast inspired by some favorite dishes of this great melting pot called America. On Friday, April 8, the Athenaeum hosts its annual Americana Festival.

The festival features classic American fare-including apple pie, as well as the music of the Concert Choir of Claremont McKenna-Harvey Mudd-Pitzer-Scripps colleges.

The Americana dinner scheduled for Friday, April 8, is a special CMC night. Students and faculty members may attend this dinner for $5 apiece and $5 for one guest. The program begins at 6:00 p.m. sharp. Reservations are required, and payment must accompany all reservations. Students are encouraged to sign up as soon as possible, as the event is sure to sell out.