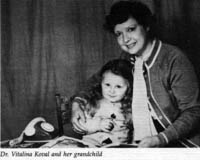 Soviet Reforms: Technological Change on Soviet Society
VITALINA KOVAL
WEDNESDAY, MARCH 23, 1988
In recent years General Secretary Gorbachev of the Soviet Union has instituted several reforms within Soviet society. Soviet scholar Vitalina Koval addresses the impacts of these reforms and the effects of technological change on Soviet society in a presentation scheduled for Wednesday, March 23, at the Athenaeum. The talk follows a 5:30 p.m. reception and dinner, and begins at 7:00 p.m.

Dr. Koval, whose visit is being sponsored in part by the Keck Center, graduated from Moscow University in 1953. Currently Koval acts as senior researcher for the Institute of the International Labor Movement at the Academy of Sciences in the Soviet Union. She is a specialist on the American labor movement.

Koval, who was born at Syzran, Kubyshevskaya Oblast, U.S.S.R., also frequently lectures on economics, women's role in Soviet society, and Soviet education.