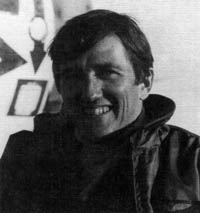 Defense and Foreign Affairs
JOHN LEHMAN, JR.
TUESDAY, APRIL 19, 1988 4:00 p.m. Bauer Lecture Hall
0n January 23, 1981, President Reagan announced the selection of John F. Lehman, Jr. to be secretary of the navy. He was confirmed by the Senate on January 29 and took the oath of office on February 5, becoming the 65th secretary of the navy.

Prior to this appointment, Lehman was president of Abington Corporation. Some highlights of his distinguished career in defense and foreign affairs include serving as special counsel and senior staff member to Dr. Henry Kissinger on the National Security Council from 1969 to 1974, and being deputy director of the U.S. Arms Control and Disarmament Agency from 1975 to 1977.

Dr. Lehman, who earned his Ph.D. in international relations from the University of Pennsylvania in 1974, will make an address at 4:00 p.m. on Tuesday, April 19, in Bauer Lecture Hall. His visit to CMC is sponsored by Res Publica. We encourage you to take the opportunity to meet this influential and distinguished guest.