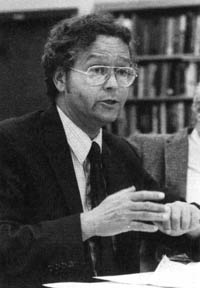 The Future of Industrial Relations in the West
WILLIAM GOULD IV
THURSDAY, APRIL 28, 1988
"The Future of Industrial Relations in the West" is the title of labor law specialist William B. Gould IV's talk at the Athenaeum on Thursday, April 28. Gould is the final lecturer for this semester's Phi Beta Kappa series at the Athenaeum. His address follows a 5.30 p.m. reception and dinner, and begins at 7:00 p.m.

Since 1984 Gould has been the Charles A. Beardsley Professor of Law at Stanford University Law School. He has taught in the law school at Stanford for 16 years.

Gould's research has been focused on labor law, with special interest in labor arbitration, comparative labor law, and industrial relations, particularly in Japan, and employment discrimination law. He has written books on job discrimination in the United States, on Japan's reshaping of American labor law, and labor relations in professional sports.

Gould's talk on the future of labor relations in the West promises to be very interesting.