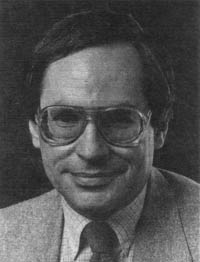 How Television Affects Your Life
HOWARD ROSENBERG
WEDNESDAY, SEPTEMBER 14, 1988
We are eager to introduce all freshmen to the unique qualities of the Athenaeum. Although we encourage freshmen to attend the first two events we are hosting, a delicious dinner is planned especially in their honor.

Pulitzer Prize-winner Howard Rosenberg is one of the nation's premier television critics. His column in the Los Angeles Times, is distributed to 600 newspapers nationwide. In 1985 he became only the third TV critic to win the Pulitzer Prize. He will address the freshmen on "how much television affects your life." Prior to his discussion, cheese and cold drinks will be served on the Flamson Patio at 5:30 p.m.; then we will serve a "home-cooked" meal. The talk will begin at 7:00 p.m. The evening concludes at 8:00 p.m.

All freshmen will be automatically signed up, but if you do not wish to attend, please fill out the special form in The Fortnightly, so that you will be able to eat in Collins.