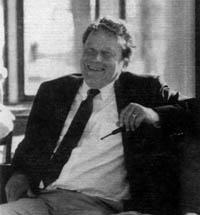 Readings
RICHARD WILBUR
WEDNESDAY, SEPTEMBER 28, 1988
In conjunction with the Humanities Collegium of Claremont Graduate School, the Athenaeum will host a visit by American Poet Laureate (1987-1988) Richard Wilbur on Wednesday, September 28. Mr. Wilbur's work has garnered numerous awards, including a Pulitzer Prize, the National Book Award, and the Bollingen Prize for Poetry.

The career of this illustrious poet is marked by critical and popular acclaim in areas of remarkable diversity. In 1956 his words accompanied Leonard Bernstein's score for the musical Candide. He is also notable as a critic and a translator of works by, among others, Borges, Moliere, and Brodsky. Mr. Wilbur's own verse includes The Beautiful Changes and Other Poems (1947), Things of This World, Poems 1946-56 (1956), and Advice to a Prophet and Other Poems (1961).

Educated at Harvard and Amherst, Mr. Wilbur has taught at numerous universities. His recent retirement from Smith College marked the close of a decade as their writer-in-residence.

Please join us at 5:30 for a reception and dinner preceding Mr. Wilbur's 7:00 p.m. presentation. Don't miss this opportunity to meet with one of America's most gifted artists. Use the coupon to ensure your seat at this special event.