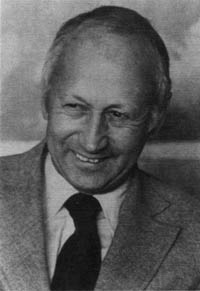 Healthy Individuals and Healthy Societies
NORMAN COUSINS
TUESDAY, OCTOBER 4, 1988
Under the auspices of ASCMC, the Athenaeum welcomes the inspiring and insightful author,
Norman Cousins
. Mr. Cousins is adjunct professor in the School of Medicine at the University of California, Los Angeles. He is the author of 25 books, including
The Pathology of Power
(1988),
The Healing Heart
(1984),
Human Options
(1981),
The Physician in Literature
(1982), and
Albert Schweitzer's Mission: Healing and Peace
(1985). During his distinguished career Mr. Cousins headed the New York City commission that designed the Environmental Protection Administration for that city; and he was one of the founders of public television in the United States. For 25 years he was editor of
Saturday Review
.
Mr. Cousins will be addressing the topic of "Healthy Individuals and Healthy Societies," on Tuesday, October 4. His reception begins at 5:30, followed by dinner at 6:00 and the address at 7:00.