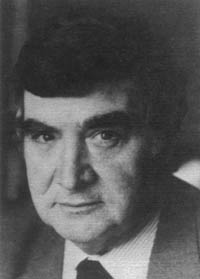 An Evening with Pierre Salinger
PIERRE SALINGER
WEDNESDAY, OCTOBER 5, 1988
Twenty-five years ago an assassin's bullet ended the brief segment of American history that has come to be known as "the Kennedy era."
Pierre Salinger
holds distinctive credentials to discuss the legacy of that era. He served as John F. Kennedy's press secretary in the Senate and in the White House, and was Lyndon Johnson's press secretary during the transition months. Mr. Salinger was subsequently appointed to the U.S. Senate to serve out the term of California's late Sen. Clair Engle. Mr. Salinger joined ABC News in 1977 and is now ABC's chief foreign correspondent. His coverage of European and Middle Eastern events -including the hostage crisis, the Iran/
contra
affair, and the Reagan-Gorbachev summits -has been critically acclaimed and has won him an Emmy Award.
The Marian Miner Cook Athenaeum is honored to present an evening with Pierre Salinger, beginning with a reception at 5:30, followed by dinner and his address. If you wish to attend this event, please fill out the coupon provided and return it to the Athenaeum.