Athenaeum Location
Print Newsletter
October 12, 1988
Vol. 04, No. 03
Bush vs. Dukakis: Who's Going to Win?
FRED BALITZER
JOHN J. PITNEY JR.
ROD SMITH
TOM WILLETT
ROSS ECKERT, moderator
WEDNESDAY, OCTOBER 19, 1988
What election strategies are the two camps following? How successful have those strategies been? Is the mudslinging working? What are the major economic issues, and where do the candidates stand on them? In terms of economic policies, does it matter who wins?

These and other timely questions are the subject of a Phi Beta Kappa panel discussion among members of the CMC Economics and Government departments. The panel discussion takes place on Wednesday, October 19, at the Athenaeum and kicks off the Athenaeum's series on the election. There will be plenty of time for your questions and views, and audience participation is encouraged. Use this panel discussion to find the key questions for this election-and demand answers to these questions from subsequent participants in other Athenaeum programs on the election.

Professors Fred Balitzer and Jack Pitney from the Government Department will give the low-down on where the campaigns stand. From the Economics Department professors Rod Smith and Tom Willett will give fearless and accurate predictions about what the election means for the economy, and Ross Eckert will moderate this no-holds-barred discussion.
A MAJOR CONFERENCE ON BANKING
FRIDAY, OCTOBER 21, 1988
The next president cannot ignore the continued march of the U.S. financial system toward insolvency. The debate over the use of federal monies to bail out failed commercial banks and S&Ls will collide with the debate over the removal of the regulatory barrier between commercial and investment banking. How Bush or Dukakis addresses this conflict will probably have as much effect on the economic future of the United States as how they reduce the federal deficit.

The Lowe Institute of Political Economy will present a conference on the changes coming to the banking industry, changes that may turn the world of commercial and investment banking upside down.

Students may use the enclosed form to sign up for the lunch at which Congressman David Dreier '75 will present the keynote address. Dreier is a member of the House Banking Committee, which will soon write the new rules.

Following lunch there will be two panels at Bauer Forum. The first panel, entitled "The New Playing Field: How the Rules Are Going to Be Changed," will begin at 1:30. The second panel, entitled "New Opportunities after Deregulation," will begin at 3:00.

Students are welcome to join these panel sessions. Sign-ups are not required.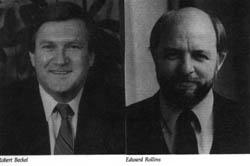 Managing a Presidential Campaign
BOB BECKEL
ED ROLLINS
MONDAY, OCTOBER 24, 1988
As authors of opposing columns in the Los Angeles Times' Sunday opinion section, Ed Rollins and Bob Beckel do not often see eye-to-eye. Combining political savvy, extensive campaign experience, and sharp wit, they are sure to present informed and contrasting opinions in their presentation, "Managing a Presidential Campaign." Their visit to CMC is sponsored by the John Brown Cook Association and the Athenaeum.

Currently serving as executive vice president with a Washington, D.C., strategic communications firm, Rollins has held positions in the Nixon, Ford, and Reagan administrations. In 1983 he took a leave of absence from his office as assistant to the president for political affairs to serve as the national director of the Reagan-Bush '84 campaign. In addition, he has managed numerous political campaigns throughout the country and had managerial roles in the Nixon and Reagan campaigns. Most recently Rollins served as the national chairman of the Kemp for President campaign.

Bob Beckel began his political career in the 1968 campaign of Robert Kennedy. After a tour in the Peace Corps in 1970-71, he started a political consulting firm handling campaigns in more than 30 states. In his first major campaign Beckel served as national campaign manager for Walter Mondale's successful race for the Democratic nomination in 1984; he is credited with pulling the campaign together after its defeat in the New Hampshire primary. In 1985 he formed National Strategies and Marketing Group, Inc., an innovative consulting firm specializing in grassroots campaigns and regional marketing campaigns for some of this country's leading corporations. Beckel has appeared often on CBS News and NBCs "'Today" show and is a frequent guest on television's "Face the Nation," "Crossfire," "Meet the Press," and "Firing Line."

Please return the coupon to attend the 5:30 p.m. reception, 6:00 dinner, and 7:00 presentation.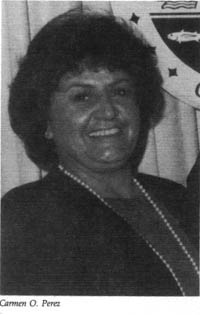 Women Swinging the Vote
EILEEN PADBERG
CARMEN PEREZ
TUESDAY, OCTOBER 25, 1988
Both Eileen E. Padberg and Carmen 0. Perez are women making things happen in contemporary politics. Eileen Padberg served as western regional director for the George Bush campaign for California, Nevada, and Hawaii, and Carmen Perez is serving as the coordinator for Dukakis' Campaign '88. They will be addressing the topic of "Women Swinging the Vote".

Eileen E. Padberg has been involved in public affairs and political campaigns for more than 15 years. She is an officer of the American Association of Political Consultants and is an active member of the International Association of Political Consultants.

Carmen 0. Perez has served on the Democratic National Committee as national chair of the Hispanic Caucus of the National Democratic Party, and is the only Hispanic woman in the nation sitting on the Democratic International Board for the National Endowment for Democracy.

Join us for an insightful look at the campaigns of both camps. The reception and dinner will begin at 5:30, followed by their presentation at 7:00. If you are interested in attending, please fill out the coupon and drop it by the Athenaeum.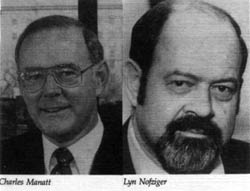 Partisan Perspectives on Campaign '88
CHARLES MANATT
LYN NOFZIGER
WEDNESDAY, OCTOBER 26, 1988
Athenaeum's special "'Election Edition" also features Lyn Nofziger and Charles Manatt. Nationally recognized members of their respective parties, Nofziger and Manatt, with their extensive experience in diverse areas of the political arena, guarantee a spirited appraisal of this election season. Their presentation will focus on "'Partisan Perspectives on Campaign '88." Their appearance is sponsored by the John Brown Cook Association.

After serving as editor and Washington correspondent for Copley Newspapers and Copley News Service, Lyn Nofziger first entered politics as press secretary to gubernatorial candidate Ronald Reagan in 1966. After the election Nofziger served as director of communications to the governor. He has also served Ronald Reagan as presidential press secretary from June-December 1980, as assistant to the president for political affairs, and as senior consultant to the Reagan-Bush '84 campaign. Nofziger has two decades of experience as a political consultant and recently founded Nofziger Communications, Inc.

Charles Manatt has been active in Democratic politics since his undergraduate days at Iowa State. This involvement culminated with his service as chairman of the Democratic National Committee from 1981 through 1985. His tenure saw the establishment of a firm financial base for the national party, the construction of its first permanent headquarters, and the extensive use of computer technology. Manatt also has extensive involvement in areas outside of politics. In 1964 he began a law practice that today has more than 100 attorneys. He was a co-founder of the First Los Angeles Bank in 1973, and has served as chairman of the board since its inception.

Please join us for a 7:00 p.m. presentation, preceded by a 5:30 reception and dinner. Sign up for this event using the coupon.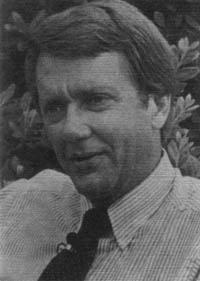 What This Election Means to You
BRUCE BABBITT
THURSDAY, OCTOBER 27, 1988
In continuing with the spirit of the "Election Edition," the Athenaeum hosts Gov. Bruce Babbitt, who will address "What This Election Means to You."

Described by the Almanac of American Politics as one of the nation's "brainiest and most original" governors, Babbitt is a frequent contributor to the editorial pages of the nation's major newspapers and magazines, writing on topics as varied as his native West, healthcare policy, American policies in Mexico and Central America, the federal budget deficit, national environmental policies, and groundwater policy.

Babbitt, a graduate of the University of Notre Dame, a Marshall scholar, and graduate of Harvard Law, has received state and national acclaim for his approach to problem solving. After practicing law in Phoenix, Babbitt was elected attorney general of Arizona in 1974. He became governor in 1978, upon the death of Gov. Wesley Bolin, and was elected to his first full term later that year. He was reelected in 1982, carrying 63 percent of the vote.

We encourage you to join us at 5:30 for a reception and dinner preceding Governor Babbitt's 7:00 presentation at McKenna Auditorium. To ensure your seat for dinner, please complete the coupon and return it to the Athenaeum.
California's Latinos: The Quest for Equity
BILL DAVILA
FRIDAY, OCTOBER 28, 1988 12:15 p.m.
Latinos are an underrepresented and growing minority in California and other areas of the United States. This group will be the swing vote in the 1988 presidential election in a number of states.

The Rose Institute of State and Local Government will host a conference to unveil vital research that the institute has compiled over a two-year period.

Students are invited to use the sign-up form and attend the luncheon, which will begin at 12:15 and feature Bill Davila as the speaker. Davila is a leader in the Hispanic business community. Those wishing to attend workshops on the role of Latinos in California may pick up a workshop schedule at the Rose Institute or at the Athenaeum.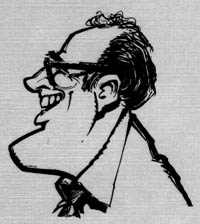 The Election From a Political Cartoonist's Point of View
PAUL CONRAD
MONDAY, OCTOBER 31, 1988
This Halloween "treat" yourself to an evening with Paul Conrad, one of the great editorial talents of our time. He will be addressing the topic of "The Election From a Political Cartoonist's Point of View."

For more than 30 years Paul Conrad has produced editorial cartoons of unparalleled graphic and ideological genius. Chief editorial cartoonist for the Los Angeles Times since 1964, Conrad draws bold -often brutal-cartoons on a variety of issues that draw strong reader reactions.

A Pulitzer Prize-winning editorial cartoonist, Conrad is one of only five people to have received this prestigious award three times. His drawings have appeared in hundreds of newspapers and in the major news magazines. Among his publications are Drawn and Quartered (1985) and Pro and Conrad (1979).

Please join Paul Conrad as he examines politics from a unique perspective. The reception and dinner will begin at 5:30, followed by his 7:00 p.m. address. Use the coupon to ensure a seat at this event.
The Economy and the Current Presidential Election
KING BANIAN
PATRICIA DILLON
CRAIG STUBBLEBINE
TOM WILLETT
TUESDAY, NOVEMBER 1, 1988
BAUER FORUM, 4:15 p.m.
A panel of economics faculty from The Claremont Colleges will discuss the influence of the performance of the economy on election outcomes and analyze the major economic issues of the current presidential election.

Panelists will include King Banian from CMC, Patricia Dillon from Scripps, Craig Stubblebine from CMC, and Tom Willett from CMC and CGS.

Banian, Dillon, and Willet are all contributors to the recently published book, Political Business Cycles (1988), which focuses on the influence of politics on economic policymaking. Stubblebine and Willett are co-editors of Reaganomics: A Mid-Term Report (1983), a volume that attempts to delineate and evaluate the early stages of President Reagan's economic policies and based in part on a 1982 conference held at CMC.

No sign-ups are necessary for this event.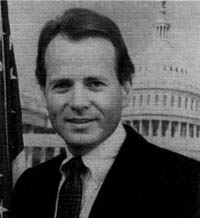 What This Election Means to You
DAVID DREIER '75
TUESDAY, NOVEMBER 1, 1988
Will the 1988 presidential race carry forward the ideals of the current administration, or will this election prompt a significant change in the politics of the nation? As an active participant in the "Reagan revolution," Congressman David Dreier will share his views on these and other important issues on Tuesday, November 1, in his speech "What This Election Means to You."

A native of Missouri, Dreier graduated with honors in political science from Claremont McKenna in 1975. He first sought public office in 1978, when he was the Republican nominee in California's 35th Congressional District. At 25, he was the youngest major party nominee in the nation. His election to Congress in 1980, along with the election of many like-minded candidates, marked a major shift in public opinion about the appropriate role and direction of government.

Throughout his political career Congressman Dreier has fought for the ideals of limited government, a free economy, and individual freedom. In the House, Dreier has won seats on the Banking, Finance and Urban Affairs, and Small Business committees. Primarily focusing on economic issues, he has written legislation on income tax reform, privitization of government services, and reducing unnecessary federal regulations.

After the 1980 election much of the 35th District was reapportioned into the new 33rd District. As a result Congressman Dreier was forced to run against a fellow Republican incumbent in the 1982 primary. By winning that election, the 29-year-old Dreier became the only member of Congress in recent history to upset two senior congressmen in successive elections. He has won re-election by a wide margin ever since.

We encourage you to join us at 5:30 for a reception and dinner preceding Congressman Dreier's 7:00 presentation at McKenna Auditorium. To ensure your seat for dinner, please complete the coupon and return it to the Athenaeum.
Political Psychology and Philosophy
RALPH JUHNKE
WEDNESDAY, NOVEMBER 2, 1988
What makes a person want to be a politician? How do these people make decisions? On Wednesday, November 2, the Claremont Democratic Club and the Athenaeum host an evening of non-partisan discussion on political psychology and philosophy, featuring a panel led by CMC Prof. Ralph Juhnke. A reception and dinner will begin at 5:30, followed by the 7:00 p.m. panel discussion. Please sign up using the coupon.
Claremont Colleges Debate Union: Election Debate
CLAREMONT COLLEGES DEBATE UNION
THURSDAY, NOVEMBER 3, 1988
As the "Election Edition" comes to a close, the issues truly begin to heat up. In conjunction with The Claremont Colleges Debate Union, the Marian Miner Cook Athenaeum is proud to host a student debate on Thursday, November 3.

The Claremont Colleges Debate Union, a five-college organization of student speakers, is planning a series of debates centering on key issues in the 1988 presidential election. Prior to the November 3 debate, the students will clash Thursday, October 20, at the Humanities Auditorium at Scripps, at Pomona's Seaver Auditorium on Thursday, October 27, and will conclude the series at the Marian Miner Cook Athenaeum.

The debates at Scripps and Pomona are scheduled to begin at 8:30. The final debate, at the Athenaeum, begins at 7:00, and is preceded by a 5:30 reception and dinner. Anyone interested in speaking should contact Steve Combs at x3726 or x4138. If you are interested in attending the November 3 event, please fill out the coupon and return it to the Athenaeum.
ELECTION JAZZ BRUNCH
NIGHT BLOOMING JAZZMEN
SUNDAY, NOVEMBER 6, 1988
A special election brunch featuring The Night Blooming Jazzmen, who will perform for your benefit, will be held Sunday, November 6. Come to enjoy a New Orleans brunch, and tap your toes.

As you know, Sunday brunches are very popular. They are only open to CMC people and one guest. Drop your coupon in our outside box.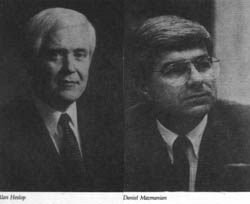 Election Night Commentary
ALAN HESLOP
DAN MAZMANIAN
TUESDAY, NOVEMBER 8, 1988
An extravaganza has been planned as the culmination of the Athenaeum's "Election Edition."

Beginning at 4:00 p.m., a big-screen TV will be on in the Security Pacific Room, and cold drinks, cheese, and pretzels will be served. Daniel Mazmanian, director of the Center for Politics and Policy at Claremont Graduate School, and Alan Heslop, director of the Rose Institute of State and Local Government at CMC, will provide election commentary and sage observations.

A Greek buffet for Democrats and a Maine lobster feast for Republicans will be served beginning at 5:00 p.m. (but we won't look at your voter registration).

This evening should conclude around 8:00 p.m. Due to the expected popularity of this event, it will be open only to CMC people. We suggest you sign up early by using the coupon.