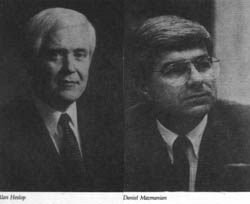 Election Night Commentary
ALAN HESLOP
DAN MAZMANIAN
TUESDAY, NOVEMBER 8, 1988
An extravaganza has been planned as the culmination of the Athenaeum's "Election Edition."

Beginning at 4:00 p.m., a big-screen TV will be on in the Security Pacific Room, and cold drinks, cheese, and pretzels will be served. Daniel Mazmanian, director of the Center for Politics and Policy at Claremont Graduate School, and Alan Heslop, director of the Rose Institute of State and Local Government at CMC, will provide election commentary and sage observations.

A Greek buffet for Democrats and a Maine lobster feast for Republicans will be served beginning at 5:00 p.m. (but we won't look at your voter registration).

This evening should conclude around 8:00 p.m. Due to the expected popularity of this event, it will be open only to CMC people. We suggest you sign up early by using the coupon.