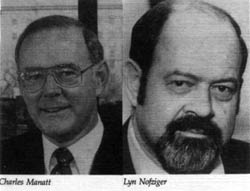 Partisan Perspectives on Campaign '88
CHARLES MANATT
LYN NOFZIGER
WEDNESDAY, OCTOBER 26, 1988
Athenaeum's special "'Election Edition" also features Lyn Nofziger and Charles Manatt. Nationally recognized members of their respective parties, Nofziger and Manatt, with their extensive experience in diverse areas of the political arena, guarantee a spirited appraisal of this election season. Their presentation will focus on "'Partisan Perspectives on Campaign '88." Their appearance is sponsored by the John Brown Cook Association.

After serving as editor and Washington correspondent for Copley Newspapers and Copley News Service, Lyn Nofziger first entered politics as press secretary to gubernatorial candidate Ronald Reagan in 1966. After the election Nofziger served as director of communications to the governor. He has also served Ronald Reagan as presidential press secretary from June-December 1980, as assistant to the president for political affairs, and as senior consultant to the Reagan-Bush '84 campaign. Nofziger has two decades of experience as a political consultant and recently founded Nofziger Communications, Inc.

Charles Manatt has been active in Democratic politics since his undergraduate days at Iowa State. This involvement culminated with his service as chairman of the Democratic National Committee from 1981 through 1985. His tenure saw the establishment of a firm financial base for the national party, the construction of its first permanent headquarters, and the extensive use of computer technology. Manatt also has extensive involvement in areas outside of politics. In 1964 he began a law practice that today has more than 100 attorneys. He was a co-founder of the First Los Angeles Bank in 1973, and has served as chairman of the board since its inception.

Please join us for a 7:00 p.m. presentation, preceded by a 5:30 reception and dinner. Sign up for this event using the coupon.