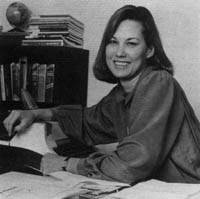 The Middle East: Who Wins?
KAREN ELLIOTT HOUSE
THURSDAY, NOVEMBER 17, 1988
As part of our Pulitzer Prize series and an upcoming series on the Middle East conflict, the Athenaeum hosts Karen Elliott House, foreign editor of The Wall Street Journal speaking on "The Middle East: Who Wins?"

Ms. House received the Pulitzer Prize in 1983 for a series of articles forecasting the failure of the American peace plan in the Middle East. The stories resulted from more than 20 exclusive interviews with King Hussein of Jordan, in which the king revealed secret promises made to him by President Reagan and which afforded rare insight into his own political motivations.

Ms. House won the Overseas Press Club's Bob Considine Award for best daily newspaper interpretation of foreign affairs for her two-part series, "Hussein's Decision," based on interviews with the king of Jordan concerning U.S. efforts to draw him into peace talks in the Middle East.

Ms. House's lecture is sure to be informative and topical. She will speak at 7:00 p.m., following a 5:30 reception and 6:00 p.m. dinner. Please complete the coupon to attend this event.