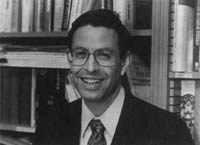 The U.S. and Israeli Elections: What They Mean for the Middle East
STEVEN SPIEGEL
TUESDAY, NOVEMBER 22, 1988
Continuing its special program on the Middle East, the Athenaeum hosts Steven L. Spiegel, highly acclaimed author and spokesperson on international politics, foreign policy, and the Middle East.

Steven L. Spiegel, professor of political science at UCLA, is the author of The Other Arab-Israeli Conflict: Making America's Middle East Policy, from Truman to Reagan (1985), which won the 1986 National Jewish Book Award. This book is acclaimed by Nadav Safran of The New York Times as addressing America's policy on the Arab-Israeli conflict "with admirable thoroughness, verve, and facility of expression."

Dr. Spiegel received his M.A. and Ph.D. at Harvard University in the Department of Government. He has published in many well-known magazines and journals. Spiegel's foreign policy reader, At Issue: Politics in the World Arena (1977), is the most popular of its kind used in the United States. In addition to his publications, Dr. Spiegel is frequently interviewed on radio and television to discuss current world events, especially as they relate to American foreign policy in the Middle East.

The Athenaeum is joining the Keck Center in sponsoring Dr. Spiegel's address, which begins at 7:00, preceded by a 5:30 reception, and 6:00 dinner. If you wish to attend this event on Tuesday, November 22, please complete the coupon and return it to the Athenaeum.