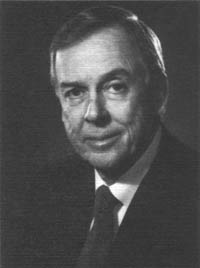 Leadership in Business
T. BOONE PICKENS, JR.
THURSDAY, FEBRUARY 2, 1989 8:00 a.m.
A school of geology, a school of business, and a 15-week New York Times best seller all bear his distinctive name. Yet T. Boone Pickens, Jr. is even better known for his high-profile business deals of the early 1980s. Join Mr. Pickens at the Athenaeum on February 2 to gain insight into one of the most discussed business figures of this decade.

Soon after graduating with a degree in geology from Oklahoma State in 1951, Mr. Pickens ventured forth with characteristic independence and formed his first oil company, Petroleum Exploration, Inc., with $2,500 in equity capital.

Only eight years later, he founded Mesa Petroleum Co., which has grown into the largest independent producer of domestic oil and gas in the United States. Reorganized in 1985 into Mesa Limited Partnership, Mr. Pickens' business was once again at. the forefront of industry innovation.

Mr. Pickens has earned widespread recognition for his role as shareholder-advocate and corporate activist. Founder and chairman of United Shareholders Association, he works with a membership of 25,000 to champion the rights of America's 47 million shareholders.

Adviser to the national Campaign for a Drug Free America, Mr. Pickens has also been a generous contributor to charitable foundations, as well as a strong proponent for education.

Please return the attached coupon immediately to ensure your place at the continental breakfast gathering. Mr. Pickens is certain to be a dynamic and interesting speaker, so join him at the Athenaeum.