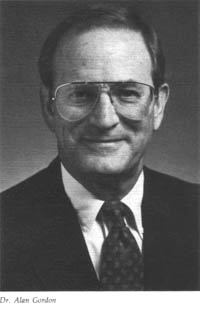 MEDICAL ETHICS SYMPOSIUM
Changes in Medical Ethics From a Physician's Point of View
ALAN GORDON P'84 P'89
MONDAY, FEBRUARY 6, 1989
Medical Ethics From a Philosophical Viewpoint
JUDITH ROSS
TUESDAY, FEBRUARY 7, 1989 5:00 p.m.
Medical Ethics From a Legal Point of View
ALEX CAPRON
TUESDAY, FEBRUARY 7, 1989 6:45 p.m.
Medical Ethics Symposium Panel
ALAN GORDON P'84 P'89
JUDITH ROSS
ALEX CAPRON
FEBRUARY 7, 1989 7:45 p.m.
If you are dying from an untreatable disease, should you be able to tell your doctor you do not want to receive sustenance, and should he respect your wishes? If a hospital receives a heart, should the patient who is completely insured receive it, or should the most needy patient get it, even if he cannot pay? If you test positive for AIDS, should your doctor tell your parents, if you are under 18 years old? If a physician suspects a patient is homicidal, what responsibility does the physician have to this person? If you are elderly and wish to die, is this your right? Who is primary in the surrogate-mother issue, the person bearing the child, the person donating the sperm, the person or persons receiving the baby, the baby itself? These questions probe very real concerns related to medical ethics.

At our two-day conference we examine medical ethics from medical, legal, and philosophical points of view.

Dr. Alan Gordon is the symposium coordinator. (He is the father of CMC student Peter Gordon '89 and CMC graduate Jill Gordon '84; Peter developed the plans for this symposium.) Dr. Gordon has an extensive background in many areas of medicine as practicing physician and teacher. He is a governor of the American Board of Internal Medicine. On February 6 he addresses the topic of "Changes in Medical Ethics from a Physician's Point of View."

On Tuesday, February 7, Dr. Gordon invites pre-med students, and anyone else interested in the physician's world, to attend an informal luncheon with him. He will deliver remarks on his profession and answer questions.

Judith Ross, who is associate director of programs in medical ethics at the UCLA Medical Center and a long-time associate at the Center for Bioethics, St. Joseph's Health System in Orange, California, the leading bioethics center in California, addresses medical ethics from a philosophical viewpoint before dinner on February 7.

Alex Capron, director of the President's Commission on Withholding Treatment and the Norman Topping Professor of Law, Medicine, and Public Policy, USC, discusses medical ethics from the legal point of view.

The format of this event allows you to ask questions after each address, as well as after the panel discussion that closes the symposium on February 7.

Please use the form in The Fortnightly to reserve your spot for Monday and/or Tuesday's events.