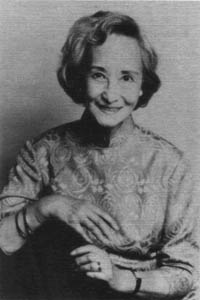 Life and Death in Shanghai
NIEN CHENG
MONDAY, FEBRUARY 13, 1989
Nien Cheng, a political prisoner during China's Great Proletarian Cultural Revolution, has recounted her experiences in her bestseller, Life and Death in Shanghai (1986). The Athenaeum is honored to host her on Monday, February 13.

Cheng is the widow of a diplomat in China's government who became a general manager of Shell International Petroleum. Prior to her husband's death, she taught English at Shanghai University. After his death she became an adviser to management for Shell in Shanghai. It was then that Maoist Red Guards broke into her Shanghai home and sent her to the No. 1 Shanghai Detention House.

Falsely accused of spying, Nien Cheng suffered 61/2 years' imprisonment and torture at the hands of the Red Guards. She not only had to survive illness and physical abuse, but also had to withstand constant pressure to "confess" crimes of which she was not guilty. Throughout her imprisonment and despite her torture, she retained dignity, courage, and grace.

Cheng became a U.S. citizen in 1983, and advocates greater international awareness, so that people can see themselves in proper perspective.

We encourage you to join Nien Cheng at a 5:30 p.m. reception and dinner, followed by her 7:00 p.m. address. Please complete the coupon and return it to the Athenaeum.