Athenaeum Location
Print Newsletter
February 13, 1989
Vol. 04, No. 06
The Bush Administration: What Does It Want? What's It Going to Get? What Are We Going to Get?
WARD ELLIOTT
DAN MAZMANIAN
NANCY BURNETT
CRAIG STUBBLEBINE
DICK SWEENEY, moderator
WEDNESDAY, FEBRUARY 15, 1989
0n February 9, 1989, President Bush addressed a joint session of Congress and outlined his plans for the new administration. What does he really want from Congress? What is he going to get? And how about us-are we going to get higher taxes? a stalemate between the president and Congress? war? peace? boredom?

Traditionally a new president sets the tone, direction, and pace of his administration during its first 100 days. Often a new president's first address to Congress provides major clues about where the administration is heading. Already the news pages and opinion columns are carrying mixed reviews on how well the administration is doing.

To evaluate what George Bush has done so far and what the outlook is for his presidency, Phi Beta Kappa has put together a panel of political scientists and economists. Ward Elliott of CMC`s government department, Daniel Mazmanian of the Graduate Center for Politics and Policy, and Nancy Burnett and Craig Stubblebine from CMC's economics department are the panelists; CMC economist Dick Sweeney chairs the no-holds-barred exchange of views. Everyone is invited, and there will be plenty of time set aside for comments and questions from the floor. Use the reservation form, if you wish to attend the 5:30 reception and 6:00 dinner prior to the panel.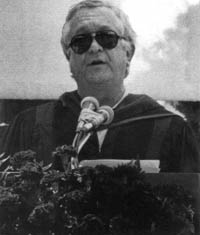 Conversation with William Styron
WILLIAM STYRON
THURSDAY, FEBRUARY 16, 1989
Under the auspices of the Center for Humanistic Studies, Phi Beta Kappa, and the Athenaeum , we are honored to host a return visit by Pulitzer Prizewinner William Styron.

Styron's novels have brought him major literary awards, broad critical notice, and a reputation for raising controversial issues. In The Confessions of Nat Turner (1967) and Sophie's Choice (1979) Styron writes about two victims of oppression: a slave and a concentration camp survivor. Although some critics question his approach, most praise Styron for probing difficult subjects. He received both the Pulitzer Prize and the Howell's Medal of the American Academy of Arts and Letters for his novel, The Confessions of Nat Turner, while receiving the American Book Award and a National Book Critics Circle Award nomination for Sophies Choice.

Styron, who is this year's Center for Humanistic Studies writer-in-residence, gave the address at last year's commencement. We are pleased that he is returning to our campus and hope that you can join him at the Athenaeum on Thursday, February 16, for a 5:30 reception, dinner at 6:00, and his presentation at 7:00. Please complete the coupon and return it to the Athenaeum.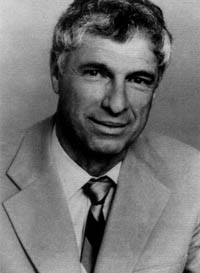 Are We What We Eat?
PAUL SALTMAN
MONDAY, FEBRUARY 20, 1989
0n February 20 the Athenaeum hosts a celebrity in the field of nutrition who has ideas to make life healthier and more enjoyable.

Dr. Paul Saltman has done extensive laboratory and clinical research in nutrition, including work with athletes on San Diego's professional basketball and football teams. Over the years he has been on many TV shows, including a recent appearance on "Donahue." He is the author of The California Nutrition Book: A Food Guide for the 90s from Faculty at the University of California and the Editors of American Health (1987), which has been widely acclaimed as one of the most interesting and understandable guides to the science of nutrition and the joys of foods. A graduate of CalTech and USC, Dr. Saltman is professor of biology at the UCSD, where students have honored his excellence in teaching numerous times.

As one observer put it, Dr. Saltman "recommends more common sense than most recommenders tend to recommend," so please be sure to complete the attached coupon to ensure a space for the 5:30 p.m. reception and 6:00 nutritional dinner preceding his 7:00 presentation, "'Are We What We Eat?"
WordsWorth Lunch
TUESDAY, FEBRUARY 21, 1989
This is the third WordsWorth lunch of the semester, and we always welcome new students interested in sharing a word or two. Each lunch is unique. Every student brings a word and discusses it, and then the group picks the "word of the week." You can learn about words you may never have heard before, or find out interesting facts about words you use every day, while in the company of fellow students and the relaxing atmosphere of the Athenaeum. Join us Tuesday, February 21, and bring your favorite word-or any word you are intrigued with-to discuss meanings, literal interpretations, or just why it's your favorite word.

If you wish to attend please complete the coupon and return it to the Athenaeum.
Science and the Paranormal: Exploring the Fringes of Science
AL SECKEL
TUESDAY, FEBRUARY 21, 1989
Can "gifted" people really move objects with the power of their minds? Are there people who can actually read others' thoughts and view hidden objects? What about the mind-over-matter practice of firewalking? Many people believe that psychic phenomena have been conclusively established through experiments by reputable scientists. The experiments that are reported to the public do seem rigorously scientific, and people have been led to understand that psychic research has been done at prestigious institutions. Why, then, are some skeptics stubbornly resisting persuasion?

Al Seckel, a physicist and respected expert on pseudo-science and fringe-science, visits the Athenaeum on Tuesday, February 21, to talk about the work of his organization: The Southern California Skeptics. His talk is sure to inspire a lively round of questions.

Dinner will be served at 6:00, following a 5:30 reception. Mr. Seckel's presentation begins at 7:00. Use the coupon to reserve A place at this event.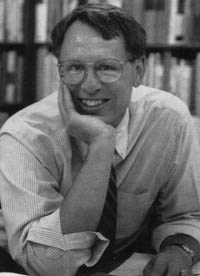 Last Lecture
JOHN ROTH
WEDNESDAY, FEBRUARY 22, 1989
For any student who has never had a class with John Roth, and for those students who have had this good fortune, the Athenaeum is excited to give everyone the opportunity to hear Professor Roth's "Last Lecture." Of course, this is not truly his last lecture; however, Professor Roth will give a lecture as if it were the last class lecture of his career. We can only imagine what a professor as thought-provoking, caring, and reflective as John Roth will convey to us in his "Last Lecture.' There is no doubt that it will be a memorable occasion.

Professor Roth has been a role model for his students as well as his colleagues. He was recently selected as the 1988 Professor of the Year for the United States and Canada, by the Council for Advancement and Support of Education (CASE) and the Carnegie Foundation for the Advancement of Teaching. We are indeed fortunate to have such an outstanding professor at CMC.

To attend this special lecture, you need not sign up with the registrar; simply fill out the coupon on the back and return it to the Athenaeum.
CLAM BAKE
MONDAY, FEBRUARY 27, 1989
It's time once again for the ever-popular and long-awaited Clam Bake. On Monday, February 27, join us at the Athenaeum for a feast prepared by our talented chef, Robert Weber. He pulls out all the stops for this annual event and plans to serve clams, gumbo, corn on the cob, and a delicious variety of seafood. Don't miss this excellent opportunity to enjoy good food and good company in a festive atmosphere. Sign up early using the coupon in this Fortnightly to ensure your participation in this sell-out event.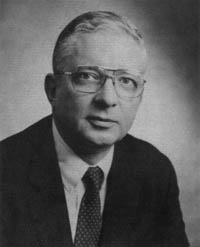 Conservatism On and Off the Bench
DANIEL MAHONEY
TUESDAY, FEBRUARY 28, 1989
0ver the course of his eight years in office, Ronald Reagan forcefully shaped the future of America's judicial system with the appointment of almost 50 percent of the nation's federal judiciary. J. Daniel Mahoney became part of that legacy in 1986, when he was appointed United States circuit judge for the Second Circuit, the next court under the Supreme Court. The Athenaeum is honored to host one of our finest legal minds on Tuesday, February 28. Judge Mahoney will speak on "Conservatism on and off the Bench."

He received his law degree from Columbia University, and practiced corporate law for several firms in New York City. In his current role as circuit court judge, he presided over the widely reported Yonkers, New York, trial on desegregation.

Please fill out the attached coupon to reserve your place for an event that promises to be both insightful and thought-provoking. Judge Mahoney's 7:00 p.m. speech follows a 5:30 reception and 6:00 dinner.
THE FELLOW'S TURN
LAURA GILMORE
This semester is well on its way, and we are delighted to see the enthusiasm you have shown toward attending and contributing to events at the Athenaeum. Not only have students, exhibited their musical talents at the Celebration of the Arts, but many have contributed to specific programs. Peter Gordon organized the medical ethics program; Tate Brown is producing Arsenic and Old Lace (1952); Mary Robinson suggested Judge Nelson; Stacy Griffith suggested Judge Daniel Mahoney; Michael Shear, whose byline is appearing in the L.A. Times, was instrumental in bringing David Shipler; and Chris Theodore will be showing his art at the Athenaeum.

We are excited to begin the "Last Lecture" series: each month a professor will be asked to lecture as if it were the last lecture he or she would be giving to students. The professor chooses the theme, style, and content, keeping us in suspense as to what will be conveyed.

In addition to the evening programs at the Athenaeum, you can always take advantage of the daily afternoon teas, bi-weekly WordsWorth lunches, and weekly Open Forum lunches (a Wednesday lunch at which CMC students are encouraged to invite professors and CMC friends).

Although the Athenaeum strives for diversity in its events, there may be something you would like to see in upcoming months or the following year. Many students have undertaken the responsibility to create very successful programs. We welcome your suggestions, as well as feedback on what you enjoyed or didn't like. We want to hear from you.