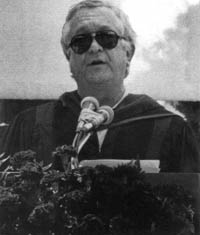 Conversation with William Styron
WILLIAM STYRON
THURSDAY, FEBRUARY 16, 1989
Under the auspices of the Center for Humanistic Studies, Phi Beta Kappa, and the Athenaeum , we are honored to host a return visit by Pulitzer Prizewinner William Styron.

Styron's novels have brought him major literary awards, broad critical notice, and a reputation for raising controversial issues. In The Confessions of Nat Turner (1967) and Sophie's Choice (1979) Styron writes about two victims of oppression: a slave and a concentration camp survivor. Although some critics question his approach, most praise Styron for probing difficult subjects. He received both the Pulitzer Prize and the Howell's Medal of the American Academy of Arts and Letters for his novel, The Confessions of Nat Turner, while receiving the American Book Award and a National Book Critics Circle Award nomination for Sophies Choice.

Styron, who is this year's Center for Humanistic Studies writer-in-residence, gave the address at last year's commencement. We are pleased that he is returning to our campus and hope that you can join him at the Athenaeum on Thursday, February 16, for a 5:30 reception, dinner at 6:00, and his presentation at 7:00. Please complete the coupon and return it to the Athenaeum.