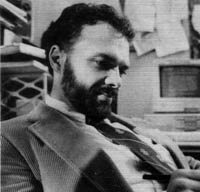 Last Lecture
JOHN J. PITNEY JR.
TUESDAY, MARCH 7, 1989
Professor Jack Pitney has been an assistant professor of government at CMC for a little more than four years. However, in this short time he has made quite an impression. Professor Pitney received the 1988 Richard M. Shure Award for Excellence in Teaching.

Professor Pitney received his Ph.D. in political science from Yale University. Prior to acquiring his Ph.D., he served as legislative assistant for New York state senator John R. Dunne, and was a congressional fellow of the American Political Science Association. After receiving his Ph.D., he became the senior domestic policy analyst for the U.S. House Republican Research Committee. Jack Pitney has recently written "Budget Balancing Act" (January 1989) and "The Tell Tale Hart" (March 1988). His teaching and research interests include the American political legislative process, news media, parties, and elections, as well as economic policy, business regulation, and welfare reform.

Please join Professor Pitney for his "last lecture" on Tuesday, March 7. The reception and dinner begin at 5:30, with Professor Pitney's lecture following at 7:00. To attend please complete the coupon and return it to the Athenaeum.