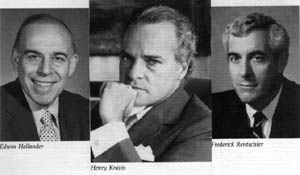 LEADERSHIP CONFERENCE: The Science and Art of Leadership

THE SCIENCE OF LEADERSHIP
The Science of Leadership: Relationships Between Leaders and Followers
EDWIN HOLLANDER
TUESDAY, MARCH 14, 1989
THE ART OF LEADERSHIP
The Art of Leadership
HENRY KRAVIS '67
WEDNESDAY, MARCH 15, 1989 12:30 p.m.
The Art of Leadership
FREDERICK RENTSCHILER
WEDNESDAY, MARCH 15, 1989
Nationally renowned entrepreneur and '67 CMC alumnus Henry Kravis is one of several speakers who will participate in CMC's second annual Leadership Conference. The conference is sponsored by the leadership studies program on campus and organized by Dr. Martin Chemers, who holds the Henry R. Kravis Chair in Leadership and Organizational Psychology Studies.

The participants in this year's conference include experts in both the science and art of leadership.

Dr. Edwin P. Hollander is one of the foremost scholars on the science of organizational leadership, innovation, and autonomy, and he has written numerous books in these fields. Dr. Hollander received his PhD from Columbia and is professor of psychology at the State University of New York at Buffalo. His presentation focuses on "Relationships between Leaders and Followers," and begins at 5:00 in the Security Pacific Dining Room. Dinner follows. If you wish to attend the dinner, please fill out the coupon.

Henry Kravis is one of the founding partners of Kohlberg Kravis Roberts & Co., a leading investment banking firm specializing in leveraged buyouts. His firm organized the leveraged buyouts of RJR Nabisco and Beatrice Companies, the largest in history, as well as buyouts of Safeway Stores, Owens-Illinois, and other major corporations. He is counted among Forbes' listing of the nation's 400 wealthiest individuals. If you wish to join us for lunch on March 15, please fill out the coupon. Mr. Kravis will begin speaking at 12:30 p.m.

Speaking on Wednesday evening is Frederick Rentschler, president and chief executive officer of Beatrice Company. Mr. Rentschler is well suited to address the topic "The Art of Leadership." He has been president and CEO of Hunt-Wesson and Swift and Co., as well as of Beatrice Company. Mr. Rentshcler, who served in the U.S. Marine Corps., has an MBA from Harvard. His address on March 15 will be preceded by a 5:30 reception and 6:00 dinner. Please use the coupon to sign up for this event.