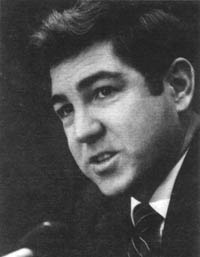 Change and Challenge in United States-Soviet Relationship
RONALD LEHMAN II '68
THURSDAY, APRIL 13, 1989
Our Soviet series ends with a luncheon presentation by the Hon.
Ronald Lehman
, assistant secretary of defense for international security policy. Mr. Lehman, who graduated from CMC in 1968, has served as U.S. chief negotiator for strategic nuclear arms and as deputy assistant to the president for national security affairs. In his present position Mr. Lehman's responsibilities include NATO and European defense policy, U.S. nuclear policy, arms control, and space policy. He also chairs the NATO High Level Group on NATO nuclear forces policy.
We are honored that our look at the Soviet Union will close with Ron Lehman's luncheon address entitled "Change and Challenge in United States-Soviet Relationship." Please use the enclosed coupon to sign up for this event.