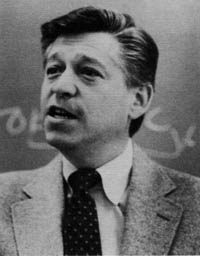 Last Lecture
MARTIN CHEMERS
THURSDAY, APRIL 20, 1989
The Athenaeum is excited to present Prof. Martin Chemers, giving his "Last Lecture," on Thursday, April 20. Professor Chemers, at Claremont McKenna College for only two years, took no time to make an impact on students and faculty here. The Henry R. Kravis Professor of Leadership and Organizational Psychology at CMC, he was recently the recipient of the G. David Huntoon Senior Teaching Award for 1988.

Since receiving his PhD in social psychology at the University of Illinois in 1968, he has taught at the universities of Delaware, Washington, and Utah, where he was chair of psychology. He is an active researcher, and has published numerous scientific articles and books on leadership. His book, Improving Leadership Effectiveness: The Leader Match Concept (1976), has been translated into German, Japanese, Swedish, and Portuguese. He has consulted widely on leadership and organizational practice for such clients as the U.S. Ski Team, the Council for the Advancement and Support of Education, and the U.S. Bureau of Mines.

Prof. Martin Chemers will surely make a lasting impression on us, with his "Last Lecture" on Thursday, April 20. To attend the last "Last Lecture," please complete the coupon and return it to the Athenaeum.