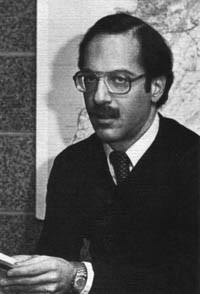 The Palestinian Perspective
RASHID KHALIDI
WEDNESDAY, APRIL 26, 1989
As the concluding speaker in the Athenaeum's series on the Arab-Jew conflict in the Middle East, on Wednesday, April 26, Prof. Rashid Khalidi presents the Palestinian viewpoint.

Given the scope and intricacy of the conflict, only an observer, with a range of experiences can objectively grasp the subtle nuances of the situation. An associate professor of modern eastern history at the University of Chicago, Professor Khalidi has the requisite breadth of knowledge and experience that this topic requires.

Professor Khalidi received his bachelor's in history from Yale and a doctorate in modem history from Oxford University. At various times he has served in departments of political studies, Arab politics, international relations, and history in schools as diverse as Lebanese University, American University at Beirut, Georgetown, and Columbia.

Professor Khalidi has also served as a research fellow for the Institute for Palestinian Studies and as a fellow with the Woodrow Wilson International Center for Scholars in Washington, D.C. As the author of numerous books, articles, and papers, he has also aired his Palestinian perspective to many groups in the past few years, including gatherings at Harvard, Berkeley, Princeton, and MIT.

Please return the attached coupon to ensure your place for this presentation. Professor Khalidi's remarks begin at 7:00 p.m., following a 5:30 reception and 6:00 dinner.