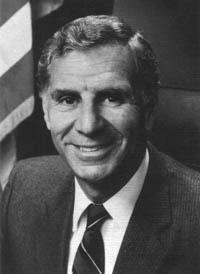 Commencement Preview
GEORGE DEUKMEJIAN
THURSDAY, APRIL 27, 1989
George Deukmejian was first sworn into office as governor of California in 1983, and was reelected to a second term by one of the largest vote margins in state history. Claremont McKenna's commencement speaker for the class of 1989, Governor Deukmejian also visits the Athenaeum on Thursday, April 27, for a private dinner with our graduating seniors.

George Deukmejian assumed the duties of chief executive after a distinguished career in elected office, including four years in the state assembly, 12 years in the state senate, and four years as attorney general. During his service to the people of California, he has established himself as an effective legislator, good administrator, and a recognized leader in efforts to fight crime. and improve public safety.

The results of the governor's strong leadership are clear: unemployment has been cut in half; schools are once again teaching the basics, and student test scores are up; dangerous criminals are being sent to state prisons in record numbers; commonsense judges have been appointed to the bench; an historic "workfare" program has been enacted; and there is more protection of the public health from toxic waste than ever before.

A graduate of Siena College in upstate New York, the governor earned his law degree from St. John's University in 1952. He has also been awarded six honorary doctorate degrees.

Seniors, please return the coupon to ensure your place at this dinner given in your honor. The evening begins with a 5:30 p.m. reception followed by dinner at 6:00.

This special appearance by our graduation speaker is made possible by a gift from the parent of a current CMC student.