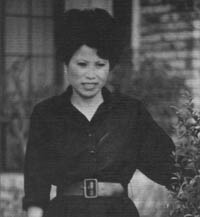 When Heaven and Earth Changed Places: A Vietnamese Woman's Journey from War to Peace
LE LY HAYSLIP
MONDAY, SEPTEMBER 18, 1989
Mrs. Le Ly Hayslip will be the first speaker to begin an Athenaeum series entitled "The Myths and Realities of the Vietnam War." This series is being presented in conjunction with a team-taught CMC class on this devastating encounter.

Phung Thi Le Ly grew up in the village of Ky La, where she was caught between the forces of the Viet Cong on one side and the United States and South Vietnam on the other.

Drawing on memories of the past to create new hopes for the future, Mrs. Hayslip has written When Heaven and Earth Changed Places, a powerfully inspiring story of survival. The book was published in June 1989.

In The New York Times Book Review David Shipler (who was part of our Israeli-Palestinian series last year and who will participate in the Soviet Union series in the spring) wrote, "When Heaven and Earth Changed Places is a searing and human account of Vietnam's destruction and self-destruction. Lucidly, sometimes even lyrically, Mrs. Hayslip paints an intensely intimate portrait." Oliver Stone, the Oscar-winning filmmaker, is scheduled to produce a movie this year about Le Ly's experiences.

Mrs. Hayslip is now the director of East Meets West, the motto of which is "Working together to heal the wounds of war." She is the mother of three children.

Please use the enclosed coupon, if you wish to attend the reception and dinner preceding Mrs. Hayslip's address. There will also be an opportunity to purchase When Heaven and Earth Changed Places; Mrs. Hayslip has consented to autograph the book beginning at 5:15 p.m.