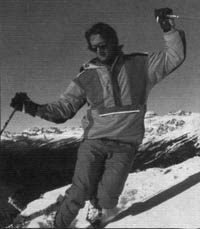 The Spirit of Adventure
MICHAEL GRABER '74
THURSDAY, SEPTEMBER 21, 1989
0ne of America's leading alpinists, Michael Graber has pioneered first ascents on four continents, including two in Antarctica. A two-time veteran of Mt. Everest, he climbed in 1987 to 28,000 feet (1,000 feet short of the summit) before being turned back by 100 m.p.h. winds and frostbite.

Graber is a seasoned Antarctic explorer and film maker. As cameraman on award-winning "Ski to Forbidden Plateau" (ABC Sports), "Antarctic Odyssey (ABC Sports), and the "Trans-Antarctic Expedition" (ABC), he is familiar with the demands of filming in extreme conditions.

Since 1983 he has filmed the war in Afghanistan for "CBS Evening News with Dan Rather." "The Battle for Afghanistan," an hour-long CBS News special, received an Emmy Award in 1988.

Graber graduated from CMC in 1974 as a philosophy major. During his senior year he received the Most Valuable Player Award for his achievements as a Stag running back. He also is rumored to have climbed up the tower dorm on the outside without a rope. He has lived a life of adventure. His personal philosophy has been that the road one wants to travel in life is attainable through hard work and careful planning.

Mike will be the first of six adventurers coming to the Athenaeum during the college year. Join us for an exciting presentation of film and reminiscences by filling out The Fortnightly coupon.