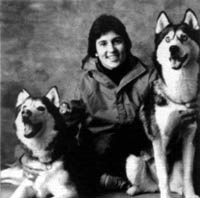 First Woman to the North Pole
ANN BANCROFT
MONDAY, OCTOBER 2, 1989
As the first known woman to the North Pole, Ann Bancroft is not only an explorer, but also a pioneer. For eight months she endured grueling training to prepare for the 1986 Steger international polar expedition, a two-month trek by dog sled to the North Pole. As if simply enduring 70 degree below zero temperatures and miles of endless fields of ice were not enough, Ann also became the cinematographer and still-life photographer for National Geographic for their article on the Steger expedition.

Ann is a native of St. Paul, Minnesota, where she taught physical and special education. She continues to be an instructor in a variety of outdoor and wilderness activities, including Wilderness Inquiry, an organization that helps disabled and able-bodied individuals enjoy wilderness experiences throughout the year. In 1989 she participated in the "Ski for Peace" delegation to the Soviet Union. She is currently writing a book about her experiences on her expedition to the North Pole.

Ann is presently planning an all-woman expedition to the Canadian Arctic for 1991. Ms. Bancroft's address begins at 7:00, preceded by a reception at 5:30 and dinner at 6:00. Please fill out the dinner reservation in this Fortnightly.