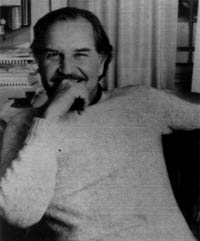 An Evening with Carlos Fuentes
CARLOS FUENTES
WEDNESDAY, OCTOBER 4, 1989
The Marian Miner Cook Athenaeum is proud to present Mexico's leading novelist and critic, Carlos Fuentes. Mr. Fuentes has been the recipient of numerous awards, including in 1984 the National Prize in Literature-Mexico's highest literary award-and the Miguel de Cervantes Prize presented by King Juan Carlos in 1988.

Ten novels by Mr. Fuentes have been published in this country: The Death of Artemio Cruz (1962), The Good Conscience (1987), Where the Air Is Clear (1958), A Change of Skin (1967), Aura (1962), Terra Nostra (1975), The Hydra Head (1978), Distant Relations (1982), The Old Gringo (1985) (a national best seller in 1985, which has been made into a movie starring Jane Fonda and is scheduled for release in the U.S. this year), and most recently Christopher Unborn (1989). He also writes articles for numerous magazines and newspapers, many of which have appeared in such American publications as The Nation, Vanity Fair, The New York Times, and The New York Times Book Review.

Carlos Fuentes was the ambassador to France from Mexico from 1975 to 1977. He has taught at many American universities, including Harvard and Cornell. Come join Mr. Fuentes at the Marian Miner Cook Athenaeum for a truly stimulating evening, beginning with a 5:30 reception and 6:00 dinner. Mr. Fuentes' address will begin at 7:00 in McKenna Auditorium. Please return the coupon to the Athenaeum as soon as possible.