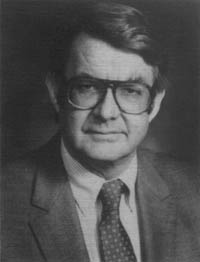 Cooperation and Coexistence with the Soviet Union
ARTHUR MACY COX
THURSDAY, OCTOBER 5, 1989
The Marian Miner Cook Athenaeum, the Gould Center, and the Keck Center for Strategic Studies are pleased to welcome Arthur Macy Cox, the third in a series of speakers on the Soviet Union. Mr. Cox has had more than 40 years of experience in Soviet affairs as a diplomat, intelligence officer, policy planner, trade expert, scholar, and writer. He is the author of the critically acclaimed Russian Roulette: The Superpower Game (1982), in addition to numerous other books and articles pertaining to the Soviet Union and Soviet-American relations.

Mr. Cox served for seven years as a senior fellow at the Brookings Institution; has been a consultant for the U.N.; and has served as political consultant to national leaders as varied as Nelson Rockefeller, Hubert Humphrey, and Henry Kissinger, to name only a few. During the Second World War, Mr. Cox served in the Office of Strategic Services (OSS) in the Secret Intelligence Branch, and from 1952-1961 he was a high-ranking member of the clandestine services of the CIA, dealing with the planning and implementation of operations conducted world-wide against the Soviet Union. During the Truman administration he was a member of the staff of the Psychological Strategy Board, which devised the U.S. strategic concept for the Cold War and provided guidance for covert operations.

The reception for Mr. Cox begins at 5:30, with dinner following at 6:00. His address in McKenna Auditorium begins at 7:00.