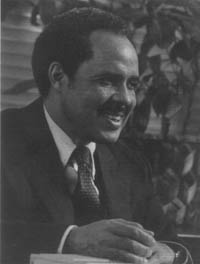 Marx and de Tocqueville: The Emergence of a Voluntary Sector in the Soviet Union
JAMES JOSEPH
MONDAY, OCTOBER 9, 1989
James A. Joseph is president and chief executive officer of the Council on Foundations, a national organization of more than 1,000 foundations and other grantmakers whose assets total more than $60 billion. Earlier he had a distinguished career in government, business, and education. He was the undersecretary of the Interior from 1977-1981. He was a vice president of Cummins Engine Company and president of the Cummins Engine Foundation. He taught at Yale, Oxford, and Claremont. An ordained minister, he was also chaplain of The Claremont Colleges and a member of the faculty of the School of Theology.

During his years in the Department of the Interior, he frequently served as acting secretary, participating in Cabinet meetings and in the development of national policy. He has also represented the United States abroad, participating in various delegations.

Mr. Joseph, who is jointly sponsored by the Keck Center, the Gould Center, the Claremont University Club, and the Athenaeum, speaks on "Marx and de Tocqueville: The Emergence of a Voluntary Sector in the Soviet Union." The 7:00 p.m. speech in McKenna Auditorium is preceded by a reception at 5:30 and dinner at 6:00 at the Athenaeum.