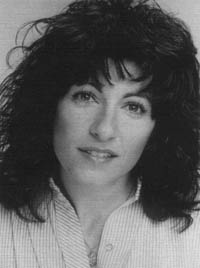 Hot, Sexy, and Safer
SUZI LANDOLPHI
TUESDAY, OCTOBER 10, 1989
It is now estimated that one in every 300 students is infected with the AIDS virus. Rather than seek the facts, we have grown to fear AIDS and blame its spread on certain segments of society. The Athenaeum and the CMC Dean of Students office is proud to offer a unique opportunity to become informed about AIDS. On October 10, Suzanne Landolphi of Hot, Sexy, and Safer Productions will share her knowledge of and experiences with AIDS, which she considers the easiest disease ... not to get.

After volunteering for five years with the AIDS Action Committee and being a hospice worker to people with AIDS, Suzanne Landolphi designed an audience participatory AIDS and safer-sex presentation for high school and college students. With a keen understanding of exactly how to break barriers holding back discussion of sensitive issues, Suzanne Landolphi addresses accepting and negotiating safer sex practices. Her approach is humorous and frank, while her message is loud and clear: safer sex.

Experts are warning that college students are the next big risk group for the spread of AIDS. Join us at the Marian Miner Cook Athenaeum for an informative evening that could change the rest of your life! The lecture at 7: 00 p.m. is preceded by a 5:30 reception and 6:00 dinner. If you wish to attend "Hot, Sexy, and Safer," please complete the coupon and return it to the Athenaeum.