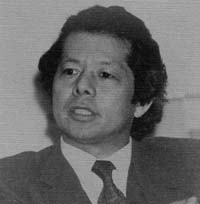 The U.S.-Japan Economic Entanglement
YOICHI FUNABASHI
THURSDAY, OCTOBER 19, 1989
Yoichi Funabashi is considered Japan's leading economic journalist. He is editor for economic affairs of Asahi Shimbun, Japan's largest newspaper with a circulation of more than 19 million. He is the author of six books related to economics, one of which Managing the Dollar, is an international best-seller. His books have received numerous awards and high critical recognition, including the Sakuzo Prize-Japan's most prestigious award for work in the social sciences-for Managing the Dollar: From the Plaza to the Louvre (1988).

Mr. Funabashi was a Nieman fellow at Harvard University, where he studied the theory of economic security. Additionally, he served as Asahi's correspondent in Washington and won the 1985 Uyeda Prize (often called Japan's Pulitzer Prize) for excellence in reporting on international affairs.

Mr. Funabashi was born in Beijing in 1944 and graduated from the University of Tokyo in 1968. In addition to Japanese, he is fluent in Chinese and English. His address, "The U.S.-Japan Economic Entanglement," which is sponsored by the John Brown Cook Association and the Athenaeum, begins at 7:00 p.m., and is preceded by a reception at 5:30 and dinner at 6:00.

Sign-ups for this event should have been received before semester break. Even if you did not sign up for dinner, you are still encouraged to attend the address.